Published on July 10, 2015
Disney World styles itself as "The Most Magical Place on Earth". If you're fan of cool tech, it became even more magical when Mickey and co introduced their MagicBand system into the resort
What is the MagicBand? In a nutshell, it's an RFID enabled wristband that guests at Disney World can use for nearly all their interactions and transactions while at the resort. Opening your hotel room? MagicBand. Skipping a ride's queue? MagicBand. Buying food or merchandise and charging it to your room? MagicBand. It is the center-piece of a $1bn tech set up called "MyMagic+" that creates – quite literally – a frictionless experience for Disney World's guests.
MyMagic+
The whole MyMagic+ experience is driven – and enhanced by – the Disney World website and a dedicated mobile app. Using either, guests can make plans for their family and such as reserving queue jump passes (called "FastPass+"), make dinner reservations and get info like queue times or show times. It all sounded pretty cool to me and on a recent family vacation, I had the chance to try it out for myself…
Guests who book their vacation with Disney get sent MagicBands in the mail as part of the package. For those who aren't staying on-site (like me), when you buy your tickets for the parks you get RFID-enabled cards instead, but you can buy a MagicBand for about $13 (online or at the resort) and link your tickets to that if you want. The ticket broker I bought my tickets with sent me a card adorned with Minnie Mouse. While cute, it's not very "me", so I opted to get a separate MagicBand in a nice blue.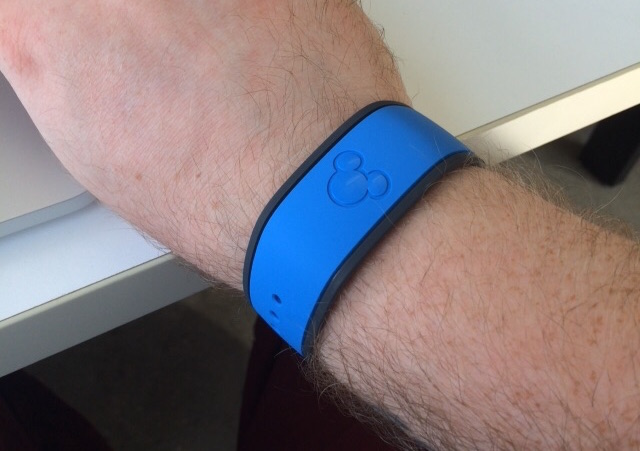 My band and card arrived the week before my vacation and linking them to my MyMagic+ account on the Disney World website was really easy. If, like me, you are managing the plans for other members of your party, you can also assign MagicBands or cards to other people. I did this for my girlfriend and my mum did the same for my brother and her husband. But, because mine and mum's MyMagic+ accounts were linked, we could make plans for each other and the people in our respective parties seamlessly.
Using the MagicBand
When it came to using the MagicBand at the resort, the experience was cooler than I expected. Not only could I use it for entry into one of Disney World's four theme parks, and to check in to rides I'd reserved a FastPass+ for, but I could also add any photos taken (on rides or by the many professional photographers stationed around the parks) to my MyMagic+ account with a simple tap of my MagicBand to their RFID readers. I could then check out these photos at a later time to see if I wanted to purchase them: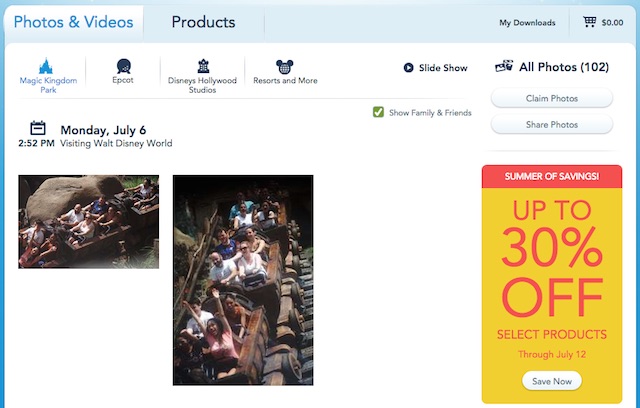 Disney has capitalized on this particular experience by offering a flat-fee "Memory Maker" package. Purchased in advance or on the trip, Memory Maker allows you to download all photos taken throughout your visit. Basically, you get a personal photographer for your entire trip for less than $200.
Using the mobile app
The mobile app really comes into its own when you're actually on the trip and in the resort. There's the standard stuff like park maps and ride wait times, which come in really handy when you're planning your day. If we saw on the app that a ride had a long queue, we simply planned around it by going elsewhere in the park, checking in regularly to see when the ride was less busy.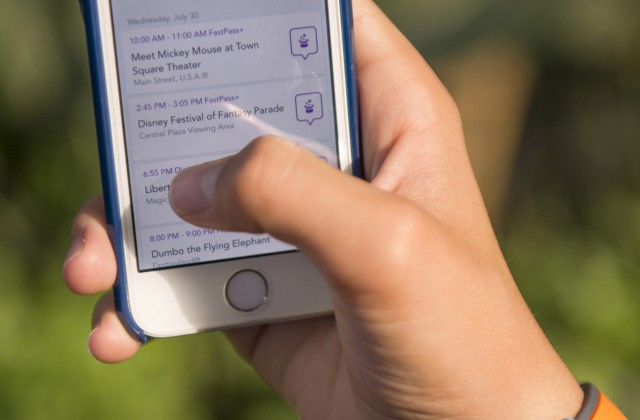 However, the cooler features of the app include the ability to change one of your three daily FastPass+ selections on-the-fly, pending availability, and to make reservations at the resort's restaurants. When my girlfriend and I were walking around Magic Kingdom and starting to feel hungry, I was able to bag a table at one of the restaurants in the park with just a few taps. We turned up and the restaurant was busy – without our reservation, we probably wouldn't have been able to eat there.
Cashless Purchasing
Since we stayed off-resort, we weren't able to use the feature that allows you to charge stuff like food and purchases to your room. I think if Disney added the ability to link your MagicBand or card to a credit card for purchases, they may find more people are choosing to use it.
I do understand the risk of doing something like this – kids could run amok on their parents credit cards, or (far less likely, but more worryingly) some sort of fraud could be committed with RFID readers. I think a way around this, however, would be providing the ability to add money to your MagicBand and use it like a debit card, topping up where needed. SeaWorld already does something like this in its Aquatica water park with its cashless wristband, and festivals like Download in the UK implemented a cashless system this year.
Data, data, data
The final thing I'll say about the MyMagic+ is that it must be giving the folks at Disney an incredible amount of data and insight to work with. Before the system was implemented, I'm willing to bet that things were a little more archaic and manual. Coupled with its website/app, Disney now has a central system for monitoring stuff like park numbers, ride popularity, restaurant popularity, purchasing trends, guest personas and much, much more.
In summary, I'm a big fan of what Disney has done with the MyMagic+ system – it is truly a frictionless experience and Disney is already benefiting financially from it. It's not just other theme parks that can be inspired by it to create similar experiences of their own; even on vacation, people are increasingly time-poor and want stuff as quickly and as easily as possible, so the travel industry as a whole should look to learn something from what Disney has done with MyMagic+.
Note: If you're interested in the geeky side of the MagicBand i.e. how it's built and the technology it contains, check out this post from the At Disney Again blog.