Published on March 31, 2011
Serious research is time consuming and costly and so is rarely done (properly) however Duncan Watts and his team at Yahoo! Research have taken the time to look in to the truth about Twitter.
Duncan Watts and his team at Yahoo! Research have the world of digital marketing buzzing once again with the results of their latest Twitter study If earlier studies (e.g. Kwak et. al) didn't convince you that Twitter was less about "two way" interpersonal communication and more about a massive diffusion of content actually produced by a small number of influencers, than surely this one will. It parses a year's worth of data from the Twitter firehose to convincingly demonstrate that "roughly 50% of all Tweets consumed are created by 20K elite users." That 20k breaks down to a cool .05% of all users disseminating half of all content consumed.
The study goes further than just pigeonholing Twitter as a digital example of mass communication though; it identifies a core group of highly active "intermediaries" responsible for redistributing (i.e. retweeting) to other users about half of all links that originate from elite "media" accounts. When you think about the implications of all these intermediaries, it seems inaccurate to say that the study shows how Twitter isn't very social, as the eConsultancy Blog does. What the study actually reveals is something far more interesting: a social structure within Twitter that, in contrast to our notions of social media as egalitarian and democratic (collections of "friends") is in fact a multi-layered hierarchy. Content begins with the ultra-high follower accounts, and is filtered through trusted local savants or "community leaders" (with an average follower base of about 500, according to Watts) before reaching the masses. Watts et al. point out that their observations of Twitter verify the "two-step flow" communications theories of mid-century sociologist Paul Lazarsfeld more than they do the contemporary emphasis on the importance of interpersonal communication. On Twitter at least, the "New Era" of highly personalized, niche media consumption made up primarily of consumer generated content, is not in fact a reality.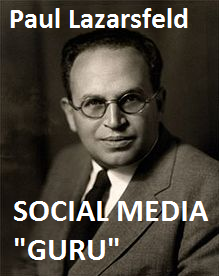 At Beyond, where we analyze how conversations about our clients move through Twitter, we see evidence of the Yahoo! Research team's observations over and over again. In one recent analysis of a client's high-profile twitter-focused microsite, we found that 42% of all links to and mentions of the microsite on Twitter were just redistributions of posts that originated in 20 key celebrity and media accounts. When you broke down the effect of these 20 elite accounts in terms of impressions (total number of followers reached), their importance was even more pronounced, with tweets that originated from their accounts accounting for 96% of all Twitter impressions related to the microsite. It would be fascinating to see the Watts et al. study framed in terms of numbers of users reached (i.e. impressions). Would the intermediaries still be as important? Is there a way to measure the importance of these intermediaries in terms of click-throughs? My guess would be that despite accounting for fewer impressions, links posted by intermediaries would have a higher click through rate than those posted by elite accounts, which would make them crucial middlemen in any Twitter-related e-commerce or traffic-driving strategy.
One final note: Twitter knows that its platform isn't "social" in the same way that Facebook is, and in the way that many imagine it to be. You've probably already seen their now viral 5th birthday video (below). Notice how the vast majority of people profiled in this brilliant ad (including Snoop Dog, who is apparently a Martha Stewart fan) talk about using Twitter to "listen." And the new tagline? It's not about connecting with friends. Tactfully, Twitter instructs you to use it to "Follow your interests. Discover your world." In other words, find intermediaries who have interests like you. Let them curate your media experience. You don't have to be their friend.