Published on September 24, 2015
Here at Beyond, we like summer, and we like parties - and we take both very seriously. This spawns some good healthy competition between offices when it comes to our annual summer parties. Let's find out how New York did...
New York's summer party had three main themes: doing something active, having fun (read: (junk) food and (boozy) drinks), and escaping the concrete jungle. That's how we landed on zip-lining, a brewery and winery tour in Hudson Valley, and finishing it all off with cheese tater tots at our favorite dive bar, Trailer Park. The only downside was that this was all on a Thursday – I'll let you interpret how we were feeling that Friday.
The NY office has "Breakfast Club" where every Friday we take turns out foodie-ing one another with sourcing the best breakfast from our neighborhood. The summer party breakfast had to top the greats which meant it had to be 1. greasy 2. carby (thank you college days of yore) 3. magical. It could only be urban legend, Shake Shack breakfast sandwiches (only sold in Grand Central, FYI), complemented by a mimosa making station and swag bags. Not even our collective food babies could slow us down.
Zip-lining was a first for most but favorite for all of us. Team building should be universally reduced to seeing co-workers faces as they fly in for landing: fear, laughter, adrenaline, and selfies – zip-lining is the new Ken Powers!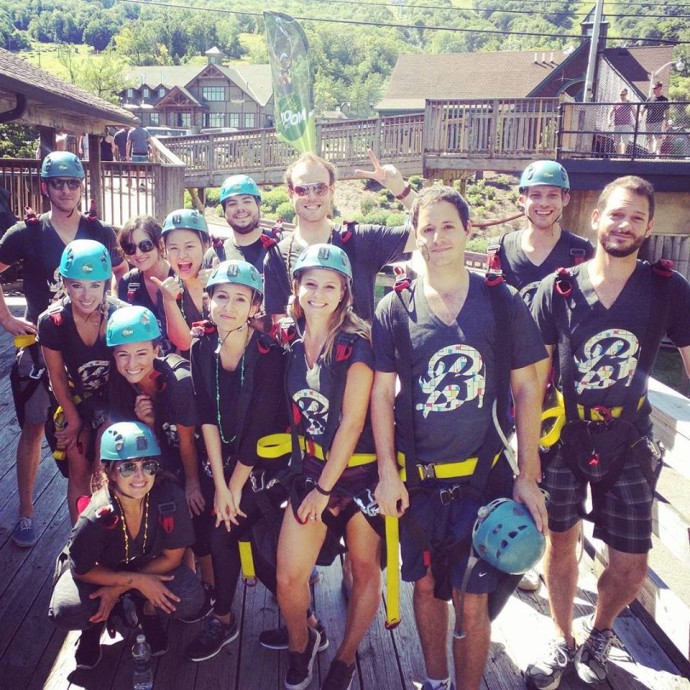 Hearts pumping and ready for a drink(s) we headed over to Westtown Brewery. The one man operation was an actualized dream for many in the group. After ruling out the possibility of moving offices to a farmhouse that would be both a brewery and digital agency (some dreams were crushed that day), we moved on to Warwick Winery for our wine tasting. This was promised to be a "party winery" and it did not disappoint.
The bus back was when we hit our stride – dancing (did I mention it was a party bus), chatting, and kinda-sorta singing (liberties taken with that statement)… Like any good field trip our sugar high was met with a sugar low as we all trickled home, happy and full of cheese tots.