Published on June 30, 2015
Just down the river from our London studio, you'll find the Design Museum, the world's leading museum devoted to contemporary design in every form from architecture to fashion. Read on as our UX Designer, Will, reviews his top 3 exhibits.
The 'Designs of the Year' exhibition runs until the 23rd of August; I try to go every year. Each time I visit, I'm blown away by the thoughtfulness and diversity of projects on display. This year's show is no exception and provides a snapshot of the most stimulating new design work from around the world. Nominations are made by an international team across six categories: architecture, digital, fashion, graphics, product, and transport.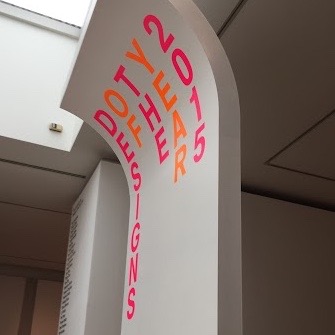 Now in its eighth year, Designs of the Year celebrates design that promotes or delivers change, enables access, extends design practice or captures the spirit of the year.
This year, 76 projects were chosen and include work from both emerging practices and well-established ones. Some question preconceptions about the role of design, others offer pragmatic solutions to consumer needs. Exhibits in the range express a diversity of intent and reveal the vital role of design as a problem solver, a predictor of future development and a cultural force. Continue reading for my top three from the show.
The walls have eyes – a visualisation of our personal data transmission
BBC R&D
This subversive project caught my attention immediately, and as I cautiously approached, I was still unsure exactly what was going on. A sign read: "BEWARE" and warned that images of me, and the device ID of any devices I was carrying, were being recorded.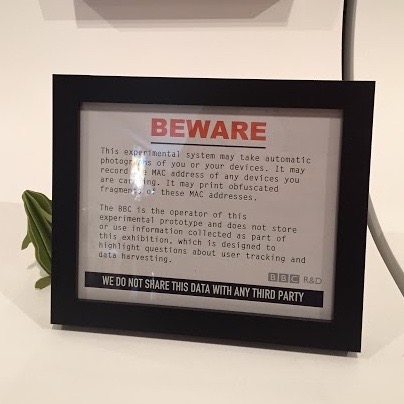 A series of pictures hung on the wall, and among the other, seemingly innocent prints I discovered a suspicious looking owl with 2 cameras for eyes – recording everything they saw. Above the owl was a framed screen, displaying live information about 8 'Nearby devices' along with the status 'Monitoring'. The screen displayed a profile of each device – including its current WiFi network, the manufacturer and the device ID (or MAC address).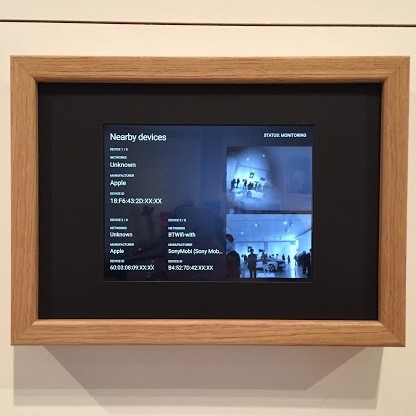 "I was surprised to learn that so much information about my device was publicly available and easily accessible."

What I loved most about this project was the way it directly engaged me by digitally confronting me. My preconceptions about the amount of data I was unknowingly transmitting all day were challenged. By forcing people to face up to these facts it cunningly provokes public engagement with the subject of privacy in the digital age. It encourages people to explore the costs and benefits of the digital landscape that is constantly evolving around us.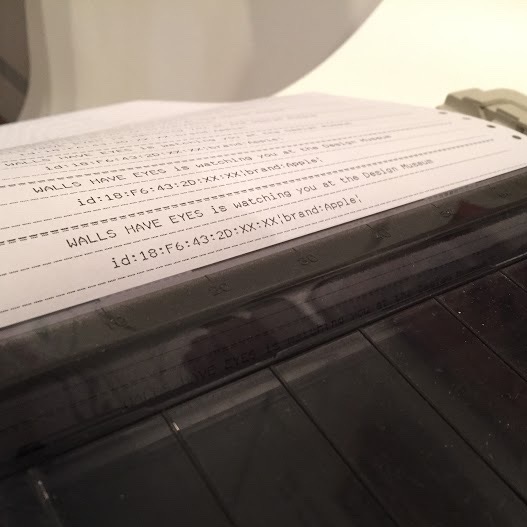 Disclosed – an app for mindful shopping
Marrion Ferrec & Kate Wakely
As someone who tries to make the right purchase decisions when buying my groceries, this project stood out to me as a great example of what innovative service design can do to empower people. Nearly all of us would like to buy and cook food that's better for us, and many would like to shop in a more mindful way. However, we're all too aware that there are so many complex, hidden factors that might make one product good for us, or for the planet, and another seemingly identical product quite the opposite.
Disclosed connects the dots between individuals, and the retailers and suppliers who serve them. It presents information currently only available to food retailers and producers, and opens up vast supply chain data to the everyday shopper.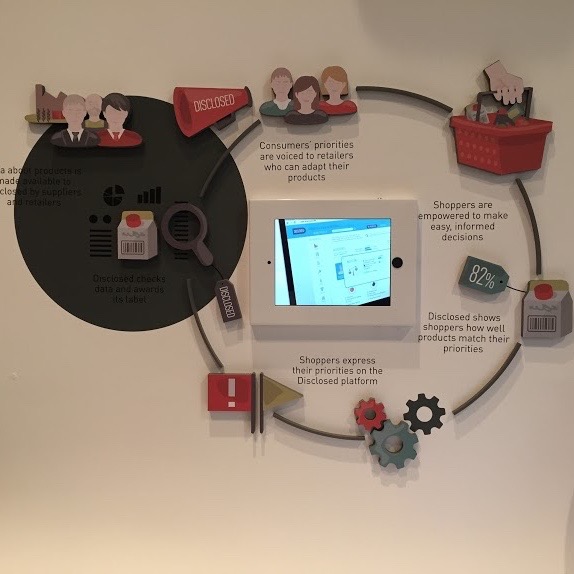 The first time you open the app, users tell Disclosed what matters to them: whether they're trying to reduce their environmental impact, take greater control of their diet, avoid specific ingredients or champion particular values. Disclosed then returns a list of products and shows visually how well they match with the user's priorities, allowing shoppers to make informed decisions.
"Interestingly, the app which is currently still a concept, then feeds back data about what customers want, to the suppliers, who can then adapt their products."

I think this idea has huge potential. I can already see frictionless integration with online shopping: connecting to your Sainsbury's online account for example. And the potential in-store is enormous too. We know the big supermarkets are testing Apple's new iBeacon technology, which allows devices to pinpoint their location in a space to around 10cm accuracy. Disclosed could easily integrate with this, suggesting which products fit in with what matters to you, and even advising on alternatives that are a better fit.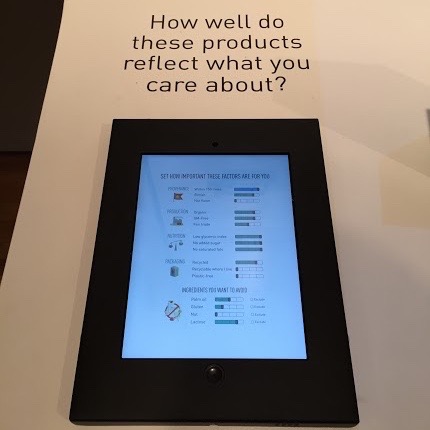 Moocall – a text message alert system for birthing calves
By Lyndsey Bryce and Christopher Murphy of Dolmen with Niall Austin
"A green pod attached to the rear end of a cow?!"

That was what went through my mind when I first saw Moocall, a device designed to transform the lives of farmers and improve animal welfare. The device clips to the tail of a pregnant cow, and sends a text to the farmer approximately an hour before the calf is due.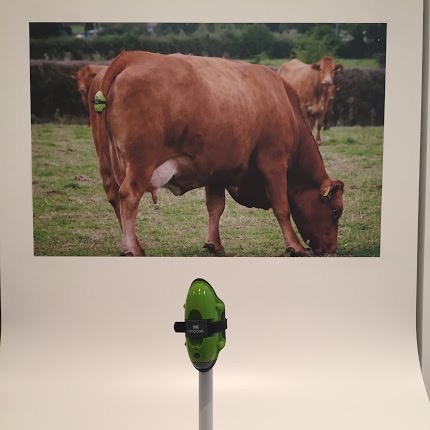 One of the designers, farmer Niall Austin, had the idea after losing a cow and her calf in an unattended birth. He knew this was a common problem for farmers, as they couldn't accurately predict when a cow would go into labour, so couldn't be on hand to help. The Moocall solves this problem simply and effectively. Programmed using sophisticated algorithms, the ergonomic (if you're a cow) device detects patterns in the movement of the cow's tail that indicate the labour is under way. Watching a YouTube video from Moocall I learned that cows seem to flick their tails around a lot before going into labour, probably because it's quite uncomfortable for them. I understand that the Moocall system works by detecting patterns in this movement, and looking for a certain movement profile that would indicate an approaching labour.
"It's this clever technology, that gives Moocall an edge over the competition. Other devices are more invasive, more time consuming for farmers to implement and more expensive to run."

I'm sure this is common knowledge for farmers, but for us non-experts it's quite fascinating and also offers a lovely insight into the creation of the Moocall. A pattern was identified, and a device created to 'decode' the pattern and inform the relevant person if a birth is approaching. It could be said that the Moocall is an example of an interface between biology and machine (and then back to biological in the form of the farmer).