Published on September 29, 2015
With an enduring love of cycling and a high interest in technology, the last few years in these industries have never been so exciting for me.
Seeing the growth of Smartphones and other GPS tracking gadgets, not forgetting the recent growth of Smartwatches, technology in this area has snowballed with the success of Team Sky and their 'Marginal Gains' mantra – where lots of little beneficial changes contribute to larger advantages.
Like it or not, these two words have trickled down into every amateur sports person's way of life. A little change here, a little change there, a more expensive item here… it's become a marketer's dream! But what better way to see if these 'changes' are working than through looking at the rise of Apps such as Strava, Nike+, Map My Ride, Garmin Connect, which work by building up communities of like-minded people, so you can announce your fastest rides for all your friends to see.
One of the biggest players, 'Strava' (my personal favourite), has millions of users all over the globe, totalling 2.7 billion kilometres of riding and 225 million kilometres of running last year, with 60% of their users being cyclists.
The app records every part of a rider's journey. On a basic level, you can see your route, elevation and speed. If your route goes through a 'segment' that another member has created, you can see an 'All-Time' ranking and your personal efforts (if ridden more than once) highlighting your PR's, second and third fastest times. It's a very clever way to add gamification, with extra gratification if a friend comments or gives you 'Kudos' to your hard effort. But the thing that most riders strive for, which will literally get them jumping for joy, would be knowing if you've got K.O.M 'King of the Mountain' or Q.O.M 'Queen of the Mountain' (i.e. ranked first place) for that segment.
The more advanced users can add other things like heart rate, cadence (pedal rotations) and power meter readings, all affirmation to the user that those extra bits of kit (aka marginal gains) were worth buying. Nevertheless, some men are still left pondering the Holy Grail of cycling decisions – "if I shave my legs, will it really help me achieve a new personal best?"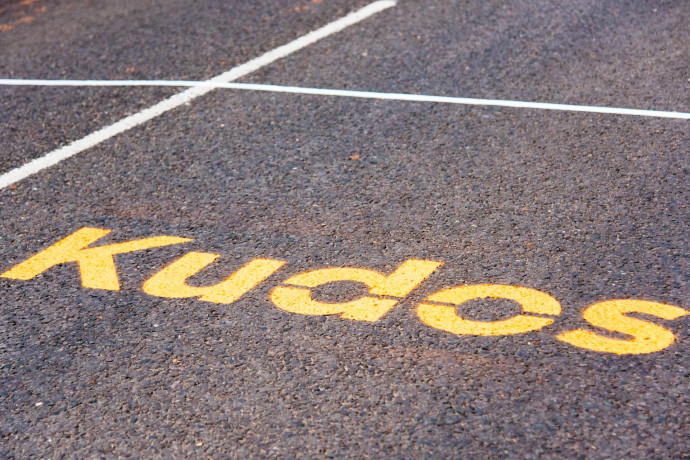 Big Data
The data recorded on Strava is immense (nearly a trillion GPS data points at the moment). The golden ticket is knowing how to make this data beneficial for everyone. A few nice offspring projects coming from this data included special tools like 'Flyby', 'Roaster' and 'The Cluster', which sit on a sister site called Strava Labs, explained below in their own marketing spiel:
Flyby
Lets you playback your activities alongside those riding near you. Find who passed or 'flew by' while riding.
Roster
Visually analyse your athletic social habits, total group activities and preferred training partners.
The Cluster
100 million Strava activities, clustered! Explore our worldwide top routes by distance and activity type.
To me, 'Flyby' and 'Roster' are fun projects, which are good to share with friends, but 'The Cluster' is the first tool where people can see hotspots of activity by time of day and month – a great tool for governments or advertisers to use for 'footfall', or for keen cyclists planning new routes. This is all exciting stuff, but it's still the tip of the iceberg in terms of what could be possible. If I get a chance here at Beyond, I'd love to get our Analytics team, Strategists, the Design team and a few Developers together to come up with something interesting!!! Watch this space…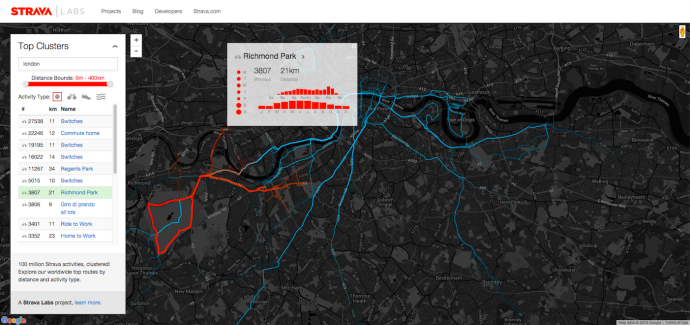 Have a look at the cluster feature here.
Design
For me, working in the design industry and having a penchant for infographics, the whole UI of Strava is well laid out – from the clean typography on 'Activity feeds', to the easy-on-the-eye layout and hierarchy of data when analysing key segments. This is a challenge for any designer, but it's done so well here, making it a near-frictionless experience. Using the sliders to highlight segment data is like watching your hard effort unfold in front of your eyes again. The little icons are used beautifully – never before has the delight of seeing a small crown (doesn't happen often), or little yellow trophy or medal, put so much delight on so many cyclists' faces.

Introducing The New Feed from Strava on Vimeo.
What's next and up & coming?
I originally thought Google Glass would really excel (given the chance), with live data right in front of your eyes, allowing you to take photos of fantastic scenery whizzing by on your ride, all without taking your hands off your handlebars. But Glass isn't dead, so it could still be reformed as a niche sports product someday. Everyone needs glasses to keep the flies out, after all… Here's hoping!
One famous set of insights comes from Sir David Brailsford (GM of Team Sky), who announced a research trip to San Fran to find out about new tech which might help to improve the next 'marginal gain' for his team. He said, "cycling should follow F1 on technology and data". A few things he has recently researched include:
Cranial Stimulation Electrodes, used by the military, allowing you to compete to your body's top capabilities.
Shorts that contain tiny devices measuring what is going on in the leg muscles.
Devices that monitor REM sleep, which can help people get a good night's rest, ready for the next day's effort.
The list goes on…
So, back to apps – sleep monitoring is already here and could be combined with heart rate and hydration level monitoring from smartwatches to identify the most beneficial days to train or rest. Voice recognition has improved tenfold recently, and now Siri is being added to Apple TV and voice control search is being pushed by Google – could 'smart' coaching be the next big thing? Focusing on your live data (from your bike, clothing, watch) you could receive tips on energy consumption, when to eat, when to drink and readjustments to your training schedule, all on your ride.
With an ever-increasing amateur cycling market (studies show cycling is taking over the golf market) and everyone looking to improve their PB's with marginal gains, tech in cycling is becoming a very lucrative business indeed.



Didn't find this interesting? There's always Strava GPS Art.
Neil Fox, https://www.strava.com/athletes/298291