Published on July 24, 2015
As our apps keep making moves towards creating a more seamless mobile user experience, the operating systems that house them need to keep pace.
Within a digital interface, friction arises from interactions that inhibit people from intuitively achieving their goals. The pain points that cause this lead to customer frustration which results in the abandonment of the task and, ultimately, the product or service. In an increasingly complex world, the desire to simplify is growing and for a brand to be indispensable they have to capitalize on this desire.
The frictionless user journey
If we take a look at the most successful digital experiences of late, they all have one thing in common; brands like Uber, Tinder and Spotify have all succeeded in taking the friction out of the user journey. With Tinder's gamification of online dating, it simplified the user experience with the simple swipe technology, but also reduced emotional friction by removing the taboo that surrounded online dating. Branding themselves as a game, Tinder drew in a pool of people who would have previously scorned the idea of online dating and thus blew open the online dating market.
Following on from this came a host of apps eager to leverage this successful mobile user experience to take their own market by storm. The success of Tinder's swipe-based user-interaction spawned Mallzee, a shopping app that allows users to swipe through products and sort out what they like or don't like. Users are able to expediently and intuitively find what they want to buy on their phone and its success has been such that it has just secured more funding, to the tune of £2.5 million from backers such as the Royal Mail Group and Skyscanner.
The swiping paradigm also found its way into the job market, with Jobr prompting you to log in with your LinkedIn account, to then be able to anonymously like or reject potential jobs. After raising $2 million in funding, Jobr boasts clients like Uber, Lyft and Twitter.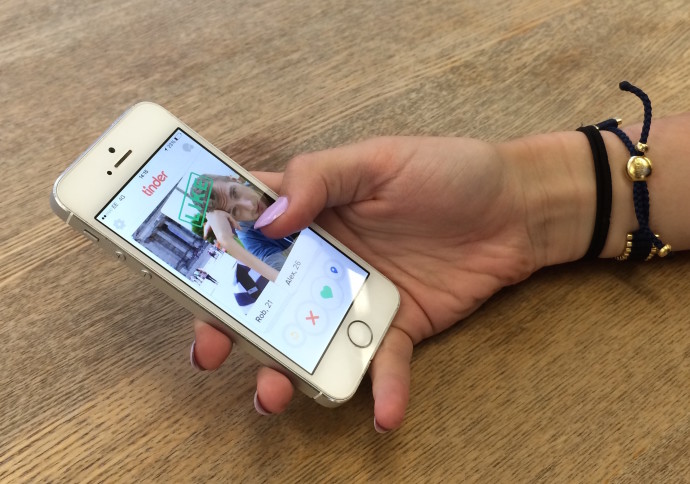 In every sphere, there are examples of apps that spot an irritant and find a way to soothe it. For example, Reserve is an app that not only allows you to easily make a restaurant reservation, but also read the menu and pay for your tab without waiting for the bill to arrive. The real selling point is the user's ability to bid on tables at hard-to-reserve locations. It can be incredibly frustrating to be consistently denied a booking at a sought after venue but now, thanks to Reserve, users have the option to pay above-market value for a table; eBay meets the dining experience.
Frictionless apps need a frictionless environment
Does it really matter if all your apps are low friction if the device that stores them is not? Apple seems to think not, and has acted accordingly. They have announced that their latest operating system, iOS 9, will feature a redesigned Siri, updated to orchestrate a seamless user experience.
Already fielding over 1 billion requests a week, Siri is undeniably simplifying the user's journey, but Apple are not resting on their laurels. They propose to work towards Siri becoming a proactive assistant who delivers reminders, internalizes your habits, and is context-aware in order to predict your behaviour. For example, when you get into your car, Siri could start to play the audiobook you've been listening to or suggest things you might want to use your phone for, based on your calendar and your recent activity.
Apple has also recognised that, alongside the desire to simplify, there is an almost conflicting desire to multitask. They have introduced the ability to do this through a split-screen option for using two apps simultaneously. Removing the friction between the growing desire to use a second screen, Apple have distilled the process to one device with the 'Slide Over' feature allowing you to drag in a second app, instead of juggling two devices. With both apps remaining fully functional and visible, you can use them exactly as you would on separate devices, perhaps more effectively as they are on the same screen.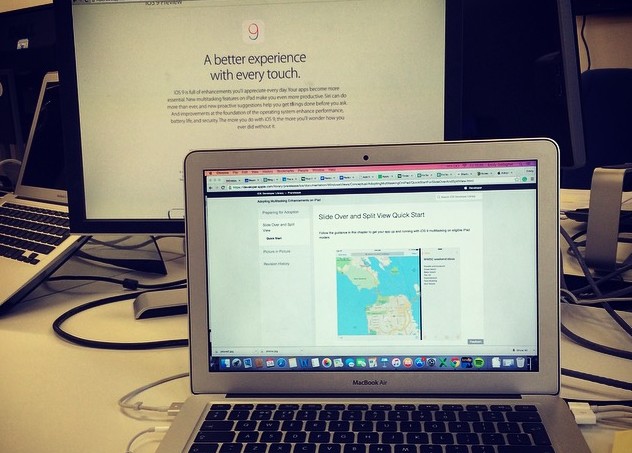 A seamless user interface is becoming the new standard
And it's not just Apple who has identified the need to update their operating system in order to enhance the user experience – Google have recently announced an update to their Android OS with the introduction of the 'Now' service, an ever-present dashboard of notifications based around your personal interests and life. Allowing for the retrieval of contextual search information, Now can aid your search for more information about the artist you're listening to on Spotify or provide more information about an event you're texting a friend about and even help you book tickets.
With a frictionless, seamless user experience becoming the new standard, or at least the minimum to be relevant in such a fast-paced environment, these advances in the operating systems of our devices are imperative. As apps advance, recognising the need to provide a meaningful customer experience, the operating systems that house them must keep up. As they grow to become an interconnecting layer between all of your apps and begin to understand, track and analyse all the divergent components, the way we interact with our devices and our level of connectivity is rapidly altering. The way companies internalize and use this is pivotal to their success.