Published on November 4, 2015
Technology is infiltrating sports from all angles, affecting everyone from coaches to consumers. But what impact are these advancements having on the sports world?
Saturday marked the end of an enthralling Rugby World Cup. Putting aside an underwhelming English performance, it had everything viewers wanted to see: stunning tries, big hits, unbridled patriotism and nerves of steel. For fans, players, and referees, technology played its part as well. World Rugby took a conscious decision to make this an international competition powered by innovation, introducing a range of new devices and software.
Pre-match attending fans could see the exact view of the pitch from their seat by scanning their ticket with the Blippar app. During the game, any player who suffered a head injury was analyzed for concussion using CSx software that tracked their injury history and cross-referenced symptoms against hundreds of other professionals for a more accurate diagnosis. The referees were aided with ball tracking Hawk Eye powered cameras when consulting the Television Match Official (TMO) for close calls or action they might have missed while fans at the match could buy a £10 ($15) audio device that offered a link to the referee's voice, standard commentary or a "novice" channel that explained the action on the pitch for newcomers.
Technical innovations like TMO in Rugby may not have unanimous support, but there is no doubt they have changed the way fans experience and consume the game. They also have an impact on the way sports are being played by athletes, coached by supporting staff and monetized by franchises and official bodies.
Recent research conducted by Beyond has delved into the sports world to identify some keys areas where disruptive innovation is fundamentally changing the experience for fans, players and coaches. We have identified five key areas where major changes are starting to take place:
1. Innovations in the stadium experience
2. Camera technology
3. Data-driven athletes
4. Devices, streaming and rights
5. Enhancing the TV experience
1. Innovations in the Stadium Experience
Sports franchises in America and the UK are investing in 4G and WiFi connected stadiums and specialized stadium apps in an attempt to compete with home television and second screen technology. 1/3 of NFL millennial fans deem connectivity key to their ticket purchase decision, preferring to watch the game on TV if they can't access the Internet at the stadium, according to The Cisco World Tech report. US stadiums such as the San Francisco 49ers Levi's Stadium and the Brooklyn Nets Barclays Center have set a high standard for in-stadium technology but the UK's Wembley and Etihad Stadiums have also made heavy investment in this area.
Specialized stadium apps can optimize the stadium experience pre, mid and post match. The 49er's app and 4G / Wi-Fi networks allows users to locate a parking spot nearest to their stand, find their seat and the stadium entrance closest to it, view the game and replays from multiple camera angles with accompanying stats, order food to their seats, find the cleanest toilet in their vicinity and then locate the quickest route back to their cars. Radium One research shows that 44% of Rugby fans are already multitasking on their smartphones at the stadium even without a specialized app suggesting a similar appetite for this kind of experience in different countries and sports.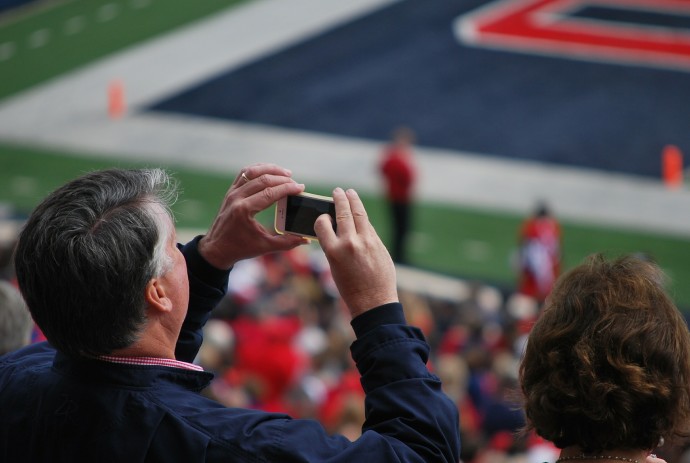 The Levi's Stadium required 400 miles of cabling, 70 miles of which was just dedicated to connecting the 1,200 distributed antenna systems that serve the Wi-Fi routers. Levi's Stadium features a backbone of 40 gigabits per second of available bandwidth, easily scalable to accommodate a total event attendance of 70,000, which is 40 times more Internet bandwidth capacity than any known US stadium, and four times greater than the standard for NFL stadiums that has been mandated by the league to be in place by the end of 2015. In the UK, EE worked with Wembley to double 3G and 4G service in the stadium. 99% of calls can now be completed in the stadium.
The introduction of high-speed connectivity and app technology provides multiple new revenue streams for stakeholders. AEG CIO Denise Taylor explains that the increased user data collected with an HD Wi-Fi solution allows franchises to develop custom products that interact with fans depending on where and when they are in the stadium. The Gold State Warriors have installed iBeacons in their stadium which will push specific food and drink offers based on customer data as well as seat upgrades and upcoming event / game deals. Sponsors and technical partners like SAP, Yahoo, Brocade, Sony, Intel and Levi's have gained a lot of brand exposure through their collaboration on mass reported technical innovations in the 49ers stadium.
2. Camera Technology
Movement tracking cameras are creating types of in-game data that have never been at the disposal of coaches and players before. The 2013-2014 NBA season was the first for all teams to have SportVU tracking, a system of six cameras in each arena that measures the movements of the ball and every player on the court, generating an entire database of performance information. Coaches are having to adapt their management styles and employ data analysts to make the best use of this information.
Drone camera technology is a growing market for both amateur sportsmen and professional cameramen. Human controlled drones were used to film ski and snowboarding events at the Sochi 2014 Winter Olympics. GoPro is set to enter the market in the second half of 2015, giving extreme sports enthusiasts the ability to obtain film quality shots of their exploits. Chinese drone-maker DJI will release the first self-flying camera drone in 2016. The product, named Lily, uses a combination of GPS and visual processing to track the user. The drone contains an accelerometer, gyroscope, barometer, GPS and three cameras. Intel has awarded a $500,000 prize to a new watch-sized wearable camera drone prototype that has similar self-flying technology.
3. The Data-Driven Athlete
Data tracking sensors built into professional training and match day equipment are exponentially increasing the amount of data at the disposal of athletes, coaches, broadcasters and fans. Each game at this year's Six Nations championship produced two million rows of data, equivalent to more than 1,400 actions (tries, conversions, tackles, passes etc.) per game.
Cisco's 'Connected Athlete' Report outlines the extent to which professional sportsmen will be monitored as the range of sensor technology increases. Sensors tracking boot movement, ingested thermometer pills adapted from NASA technology tracking core body temperature, and skin patches measuring sweat composition, heart rate, muscle activity and sleep patterns are already or will be at the disposal of teams in the next year. Their use could be inhibited by their reliance on stadium's WiFi network or a low-powered cellular phone transmitter so that teams can monitor data pitch-side.
General Manager of the baseball's Oakland Athletics, Billy Beane, championed a data-driven approach to baseball management and scouting that has changed the game. "A whole new class of players whose skill sets previously were not fully appreciated will now be able to reach the highest levels the highest levels thanks to a more nuanced understanding of their abilities," states Beane. The Women's Tennis Association have allowed players to access an SAP powered app which enables players and coaches to access key performance data such as serve direction and shot placement in real-time during match play.
There is ongoing debate as to whether sensors and the resulting data are improving or damaging the quality of player's performance. The Guardian cited research that suggests the creativity and unpredictability of Rugby Union is being killed by the overuse of data. The research claims that "surveillance trends were found to dampen players' natural enthusiasm for the game and, in time, could contribute detrimentally to their health and well-
being." Google Glass has been used in trials by Roger Federer in Tennis and professional American football teams to give players live match strategy visualizations while providing audiences with POV in-game shots, but many feel this is fundamentally changing key aspects of the game.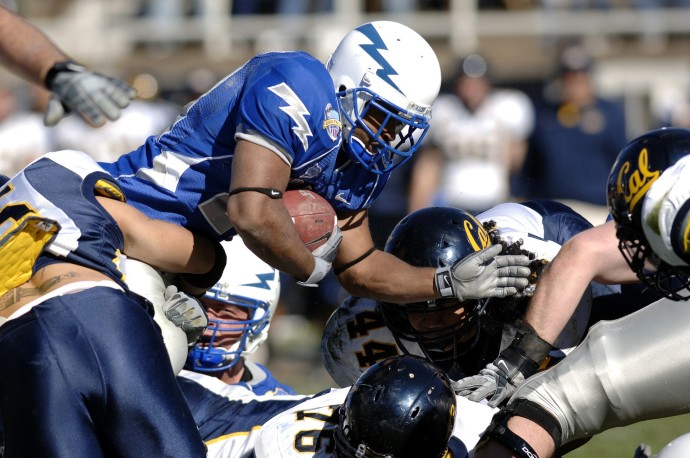 State of the art technologies developed by professional sports franchises are trickling down into the amateur sports market. ABI research predicts that there will be a market of 285 million wearables by 2017. By 2020, many analysts predict there will be a staggering 50 billion connected smart devices (Cisco Systems) — an increasing number of which will be worn, not carried separately. Technology companies like Intel are developing mass consumer devices like BioSport headphone earbuds that monitor an athlete's heart rate, provide biometric data and feedback, and deliver personalized playlists in the process.
4. Data, streaming & rights
Sports fans have higher demands for watching sports content when they want, where they want across any device or their choosing. "Fans want to be connected to sports teams and content anytime, anywhere in a continued migration to mobile", states ESPN executive vice president John Kosner, noting that 43% of ESPN.com's audience came to them exclusively through mobile devices in 2014.
The proliferation of HD streaming technologies coupled with a wider adoption of faster Internet speeds means that fans are streaming sports content at the same or higher quality than on their TV's. Moreover, the lower costs of Internet-only broadcasts allows niche sports or leagues to broadcast games to specific international fan bases who weren't previously catered for in the TV broadcasting model. American Networks like NBCSN are showing the majority of the English Premier League matches exclusively on their Live Extra App allowing viewers a wider selection of games.
There is potential for on-demand services like BT, Netflix or Apple TV to scale for live broadcasting and compete with established broadcasters like ESPN and Sky for broadcasting rights. In the US HBO's announcement last year that its popular HBO Go streaming platform will be available as a standalone service in 2015, shows it's relatively straightforward for content owners to bypass pay-TV providers. This change won't happen overnight, though. Live sports have become the last bastion of content that people would rather consume live than recorded – that's very valuable property for broadcasters as it attracts the advertising deals that fund their networks. Sky will pay £4.176bn to show 126 top flight Premier League games a season for the three seasons starting from 2016-17.
The current dominance of key sports events rights by PPV and cable broadcasters means that a rising number of fans are using the internet to find illegal streams so they don't miss out on the live sports content. Live stream video apps like Meerkat and Periscope are making illegal live streams easier for the public to broadcast and find. HBO saw an estimated 10,000 people watching the Mayweather-Pacquiao fight via Periscope without paying.
5. Enhancing the TV Experience
Television manufacturers and broadcasters are increasingly experimenting with customizable on-screen stats and camera angles in an attempt to add to the viewer's on-screen experience and bring fans closer to the action. In 2015, Samsung has introduced a Sports Live feature to their smart TVs, which is an overlay that sits on top of sporting matches, cycling through results, statistics, and other relevant figures so viewers don't have to take their eyes off the game. Australian broadcasters in the ARF hope to integrate data taken from heart rate monitors worn by players to add an extra dimension of drama to intense match situations in the coming seasons.
Japanese broadcaster NHK are developing 8K technology for the 2020 Tokyo Olympics which will not only allow for super HD sports action but also the ability to include more clearly visible statistics on screen and even play along with the games, viewers can interact with using their motion sensitive controllers. Google-backed AltspaceVR is also looking to gamify the home viewing experience by creating Oculus Rift experiences that allow fans to watch the SuperBowl with each other in a virtual environment.
70% of NFL fans are connected to social media while watching games according to the NFL. Twitter CEO Dick Costolo states, 
"you can literally see the spikes in tweet traffic that are perfectly coordinated with interesting moments in the game." Teams and broadcaster are looking to engage fans in new ways on social and make their interactions viewable to their audience through their broadcasts. Red Bull / Servus TV have attempted to regain viewer's attention by asking them to answer questions related to the game through their second screen apps and then displaying the results live on the broadcast during football matches.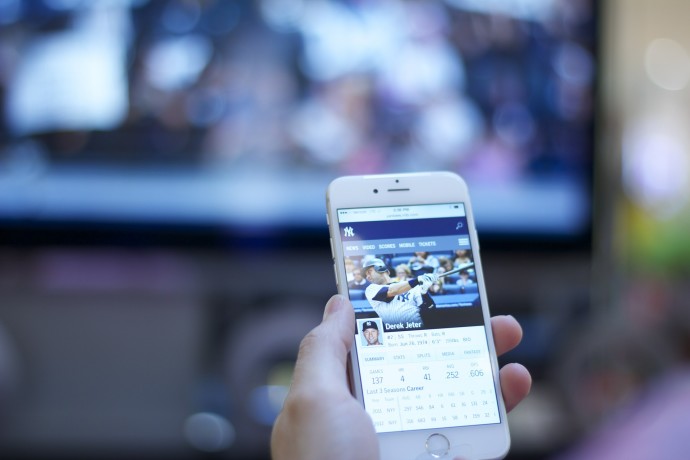 So, what does this all mean for the future of sports?
Evolving technology provides sports bodies, franchises, coaches and players with the opportunity to get ahead of competitors and grow their fan bases, but we must be careful to ensure that innovation is used to enhance professional sport without compromising its defining qualities. Human error and the physical limits of the body provide the unpredictability in sports that makes for compelling viewing.