Published on March 12, 2015
Here at Beyond we love a company-wide email...
For example, it's an unwritten law that any new starter is introduced with a mildly embarrassing email that quickly descends into a series of increasingly funny inappropriate obscure GIFs. Then there's the much-anticipated crowning of the Fantasy Football champion (somehow Charlie Lyons is currently leading the pack). Occasionally we use it to share something awesome we've seen on the Internet and, given that we know a thing or two about making awesome things for the Internet, I thought I'd share some of the best things I've seen in recent months.
Save the bros – Organic Valley
Organic Valley, suppliers of ethically sourced organic food and drink, came up with this smart piece of creative to sell more of their Organic Fuel protein shakes. Save The Bros is a satirical microsite with a video at its core that pokes fun at vanity-obsessed "Bros" by highlighting the gym-junkie stereotype and their proclivity for unhealthy protein products. Organic Fuel is marketed as a much healthier alternative with the same benefits and viewers are encouraged to share the message before it's too late and the Bros die out.
The campaign takes a playful swipe at its own target audience – a brave move – but is executed in such a way that's it's funny without being offensive and highly shareable to an audience far broader than just the "Bros" themselves. The microsite is well built with a nice segway from the video to more contextual information about Organic Fuel. There's also additional engaging functionality like the hashtag wall that pulls in (shames) photos from Instagram that are using the cringe-inducing hashtags associated with working-out like #jacked, #yoked and #bulkingseason.
The Other Side – Honda Civic Type R
Pretty jaw-dropping stuff from Honda. To promote their new Type R they created an interactive video that responds to the users' touch. Dubbed "The Other Side" the sedate video shows a man, picking up his kids from school in a Honda Civic but when the users presses the 'R' key on their keyboard we're launched into an altogether more badass parallel reality with the Honda Civic Type R starring in a bank robbery. The interactivity of the video makes it incredibly engaging and the high production values mean it's hard to take your eyes off as the high-octane actions unfolds beautifully.
I wish my son had cancer – Harrison's Fund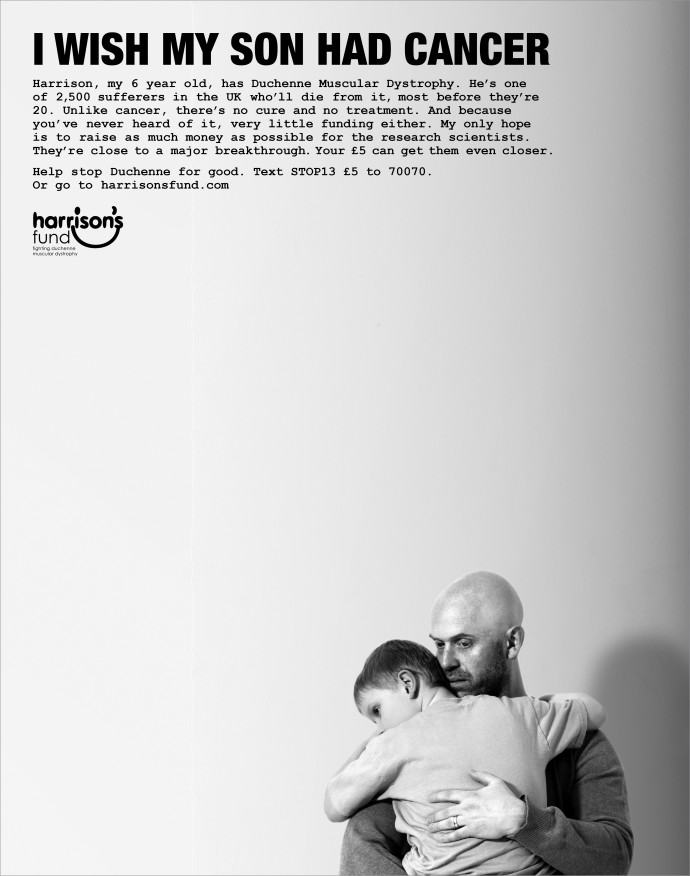 Charities are often forced to operate on a shoestring budget which makes the following campaign to raise awareness of Duchenne Muscular Dystrophy (DMD) all the more impressive.
When Alex Smith was told his son, Harrison, had DMD and that it would likely kill him in his teens, he confessed that one of his first thoughts was that he wished his son had cancer instead. He felt that unlike DMD for which there is no known cure, at least cancer might have afforded them a few more options and a chance of survival. And so this incredibly powerful and controversial ad was born. It has divided opinion ever since despite winning over 30 international awards but whatever your view it's undeniable that the ad has sparked thousands of conversations, raised awareness and encouraged donations to the Harrison's Fund charity and that's smart in our book.
COD the Kill Cameraman
For those not familiar with Call of Duty (COD), everytime you're killed in a multiplayer game you see the Kill Cam which shows you a replay of your death from the perspective of whoever or whatever it was that killed you. To help promote the Havoc downloadable content (DLC) pack, this piece of creative asks the question: who's the guy that's holding the Kill Cam? Well, it's Randall Higgins.
Randall's rough-and-ready say-it-like-it-is commentary paired with some adrenaline pumping visuals brings the imaginative concept to life. We see Randall in increasingly improbable circumstances like fastened to an attack drone and being devoured by zombies in exoskeleton suits. It's all pretty gnarly and does a great job of showing of the new game content and letting the viewer discover how awesome it is through the tongue-in-cheek telling of a fictional story.
There will be haters – Adidas
https://www.youtube.com/watch?v=UNiGSf2Sy30
Much like the Internet, football is full of haters. Adidas have embraced that fact and produced a video titled "There Will Be Haters" to promote a new range of football boots. The commentary explains why people hate the world's best footballers: because they want to be them. And that's the creative hook that they use to promote the boots. People will hate you wearing them, because they want to be wearing them. Super simple, and executed with high production values and unique style. Having Gareth Bale, Luis Suarez and Karim Benzema front and centre of the video doesn't hurt either.
Seen something cooler? We'd love to see it. Share your favourites in the comments below.