Published on April 16, 2015
Learn the story behind Catastronaut, a 3D printed model experiment created by our Head of Design in London.
NEW: Watch the story of how Catastronaut was created here: https://youtu.be/KWEL20pHax8
I really can't remember exactly how I started with this – I often doodle things and I think that's where it began. I knew I wanted to try a serious attempt at a 3D model that could be a printed kit, ideally made in several different colours rather than painting it. But as usual, when I try new things I have absolutely no idea how I'm going to go about it… I didn't even own a 3D printer!
However, here at Beyond we do have one in our London office – a Makerbot Replicator 2. And ever since we had it, I've been experimenting with it, trying to get the basics.
But this would be a whole different thing – it would need experimentation, testing, learning how to make articulated joints, and pieces that push together. So I began the only way I know how: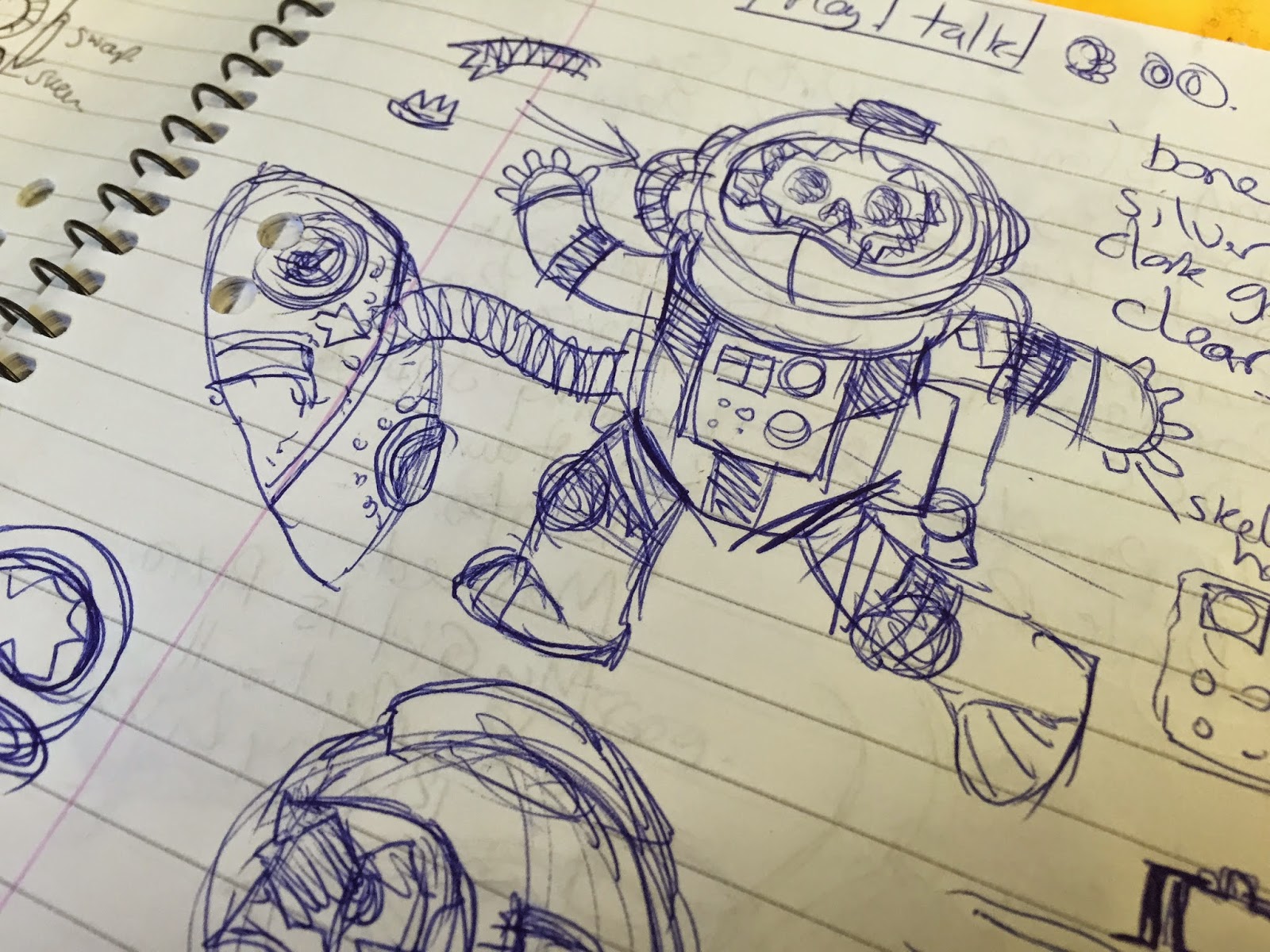 You can see that these drawings were starting to shape the concept including starting to think how to split the model up into different colours.
What next?
I really had to go back to basics, exploring software and plan how I was going to model it. I've previously experimented with Google Sketchup to make an early 3D model the Beyond Frankenbot: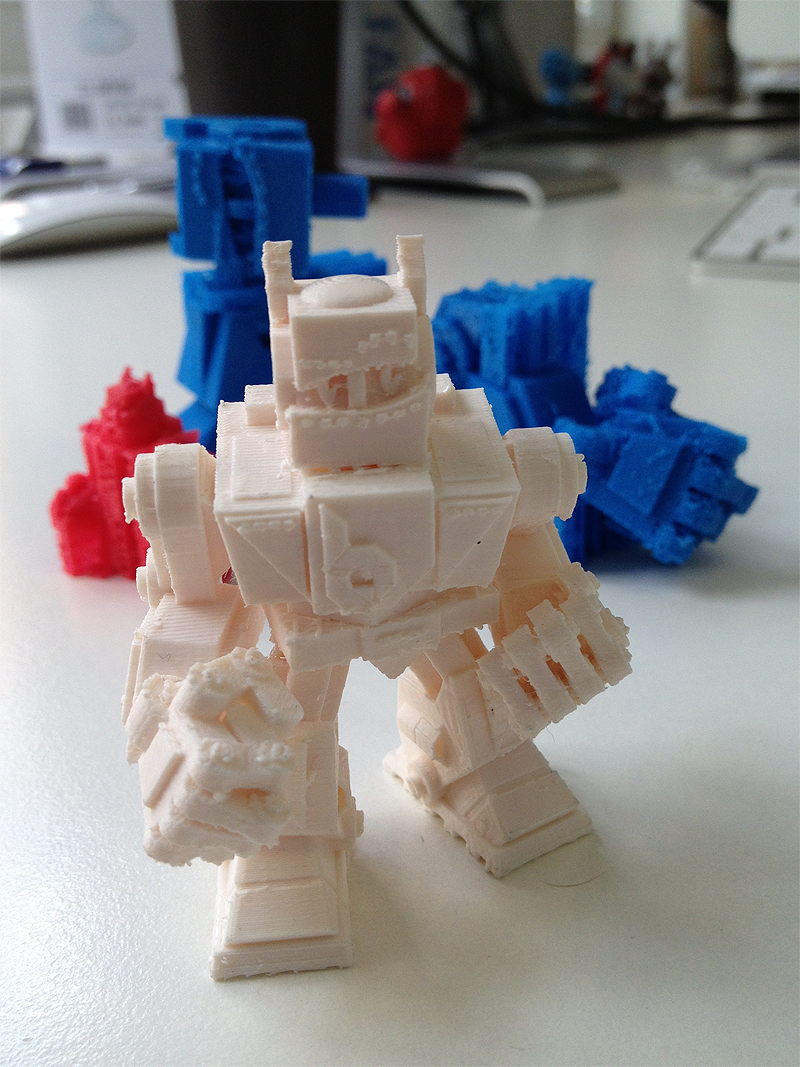 and whilst I liked how intuitive it was to use, I really wanted something along those lines, but with a little more flexibility. Google Sketchup is excellent for pure geometric design (it was created to model buildings for Google Earth) – for example here's another 3D experiment that I used Sketchup to create, where I designed and printed working custom Beyond-styled 'Lego' bricks for our four-year anniversary: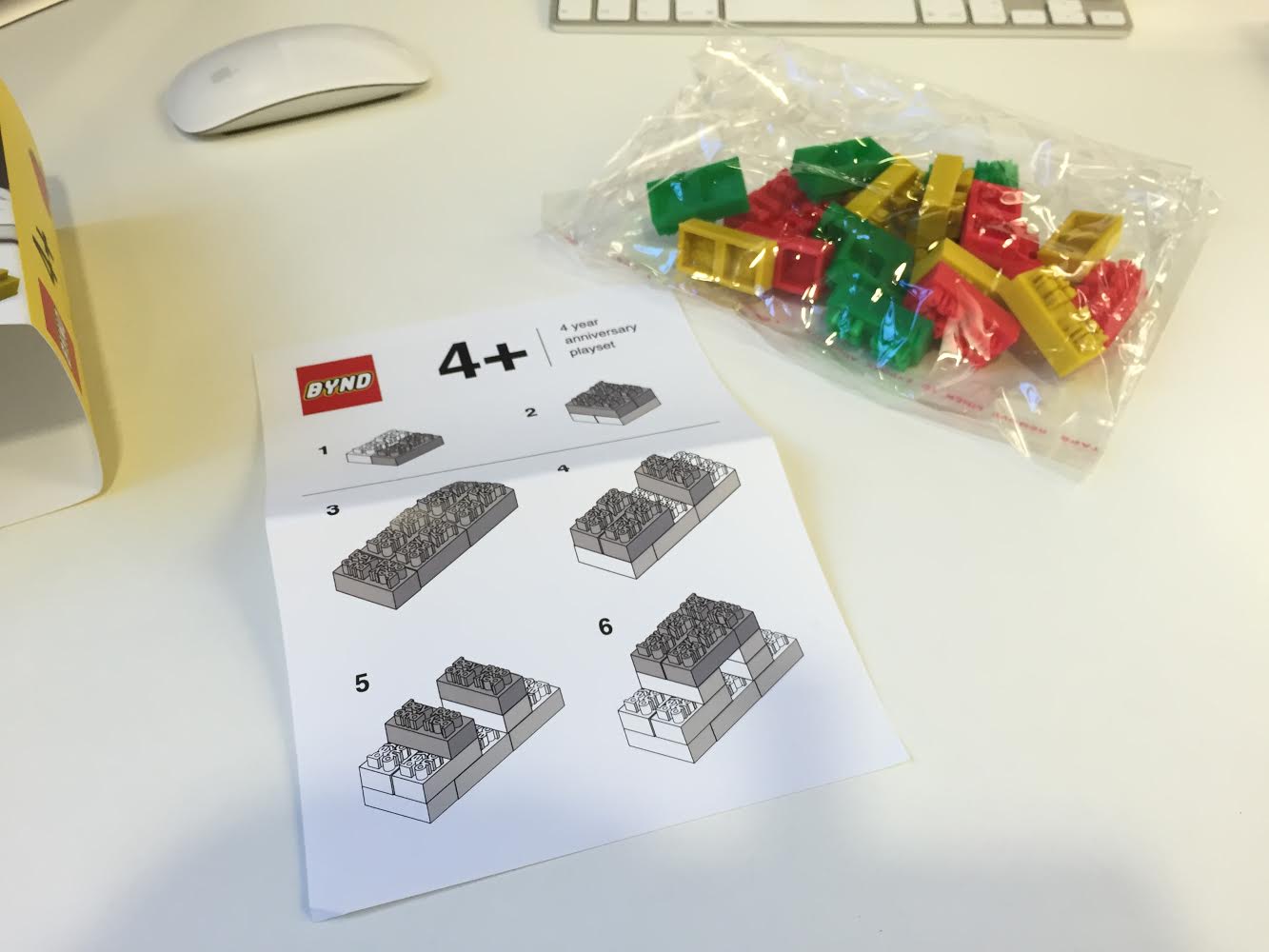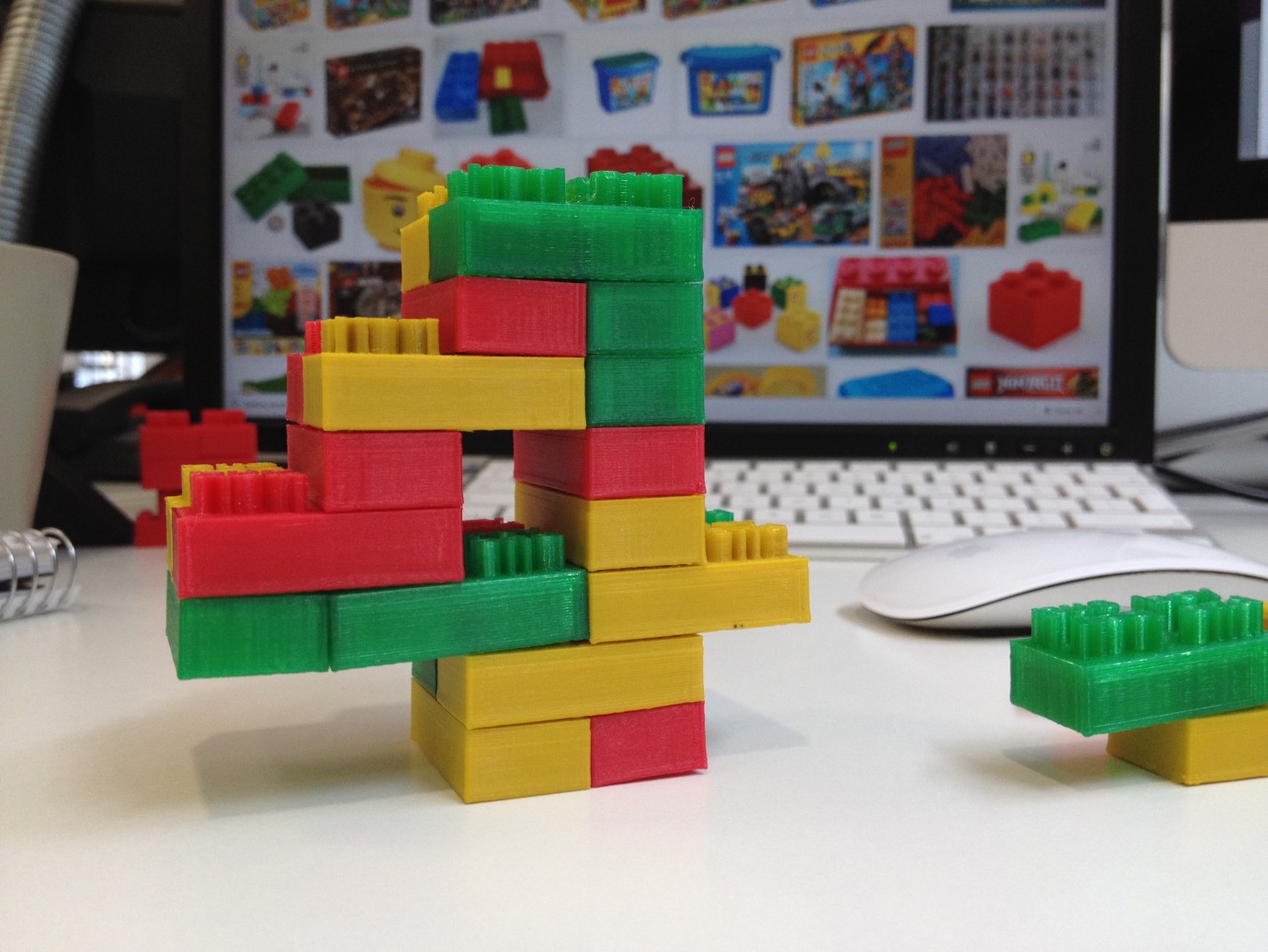 New program
After research and testing, I settled on Autodesk 123D. It's a great free program that's easy to use and you can start modelling quickly. I prefer the primitive shape design approach – combining, subtracting, warping and merging basic primitive shapes like spheres and squares to create what I need. It's surprising what you can create with such an approach. Probably 98% of the model was done in 123D – the only deviation was the smoothing and texturing of the skull, where I used Scultptris, which is the free version of Z-Brush. It did what I needed really well.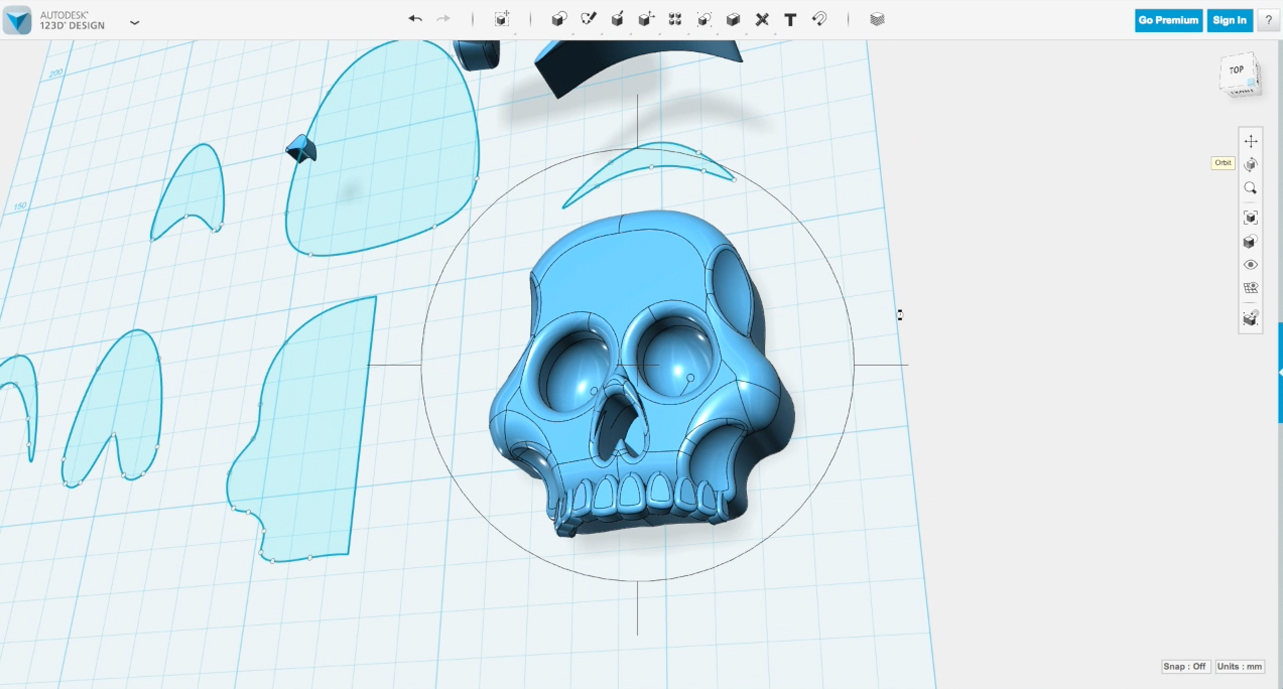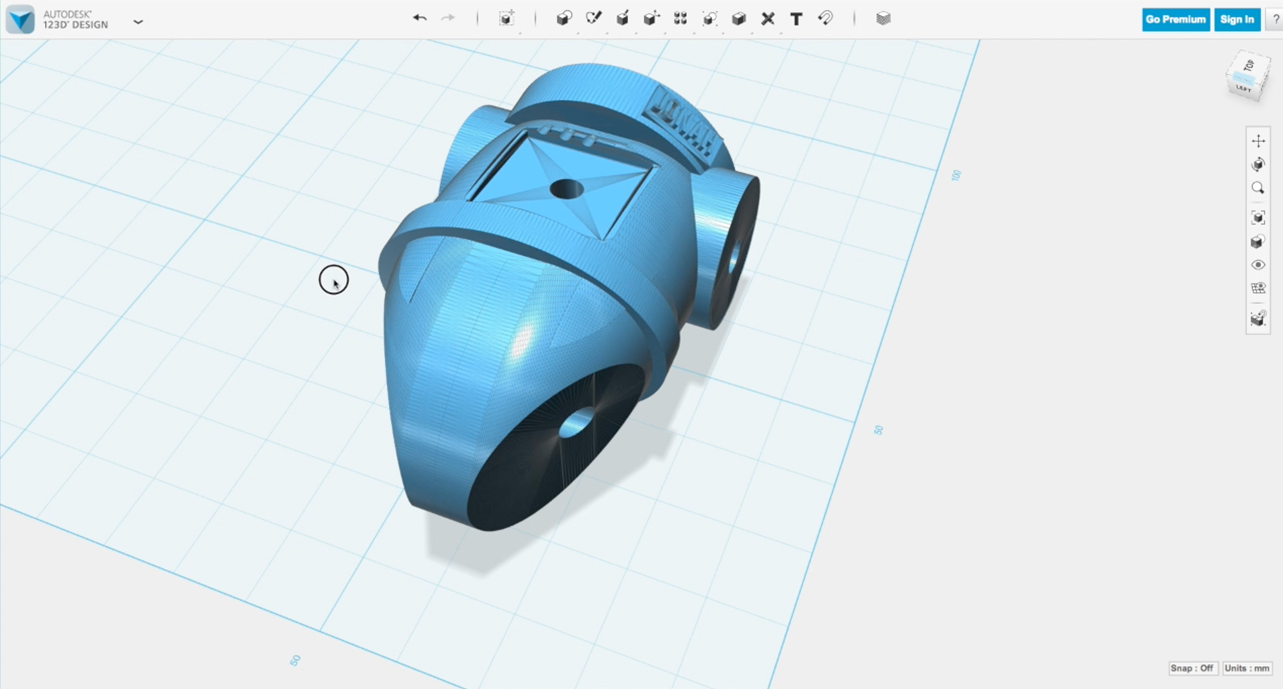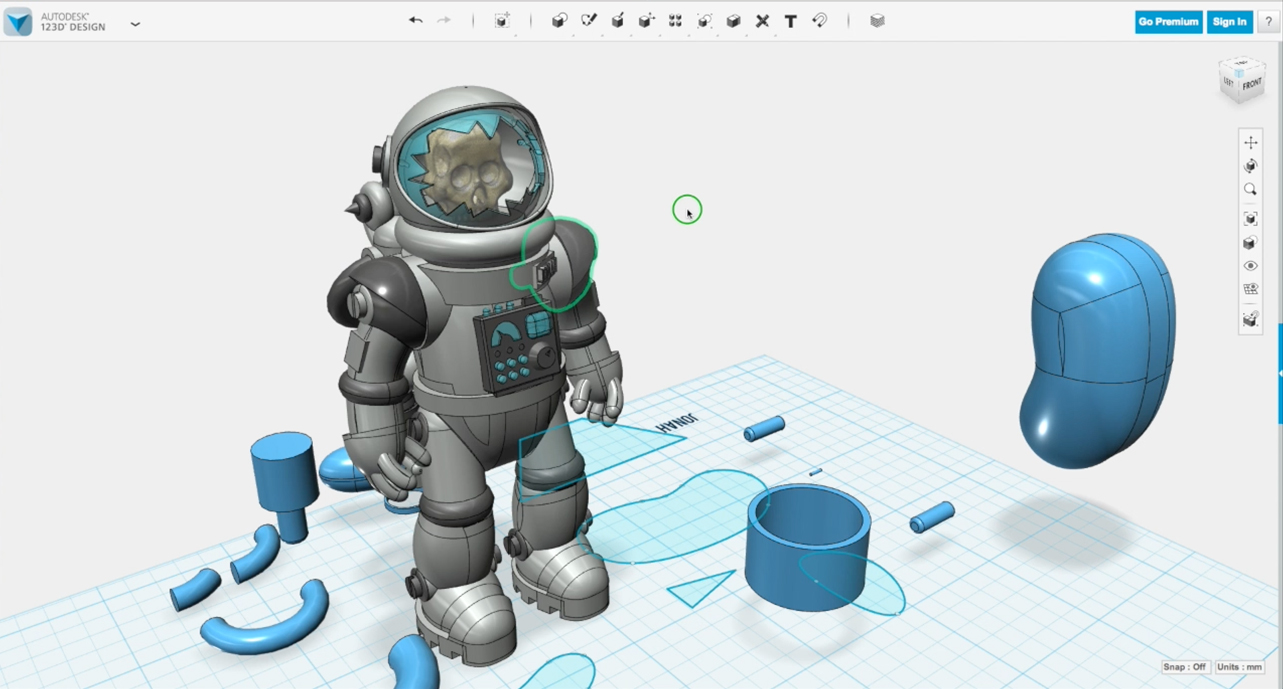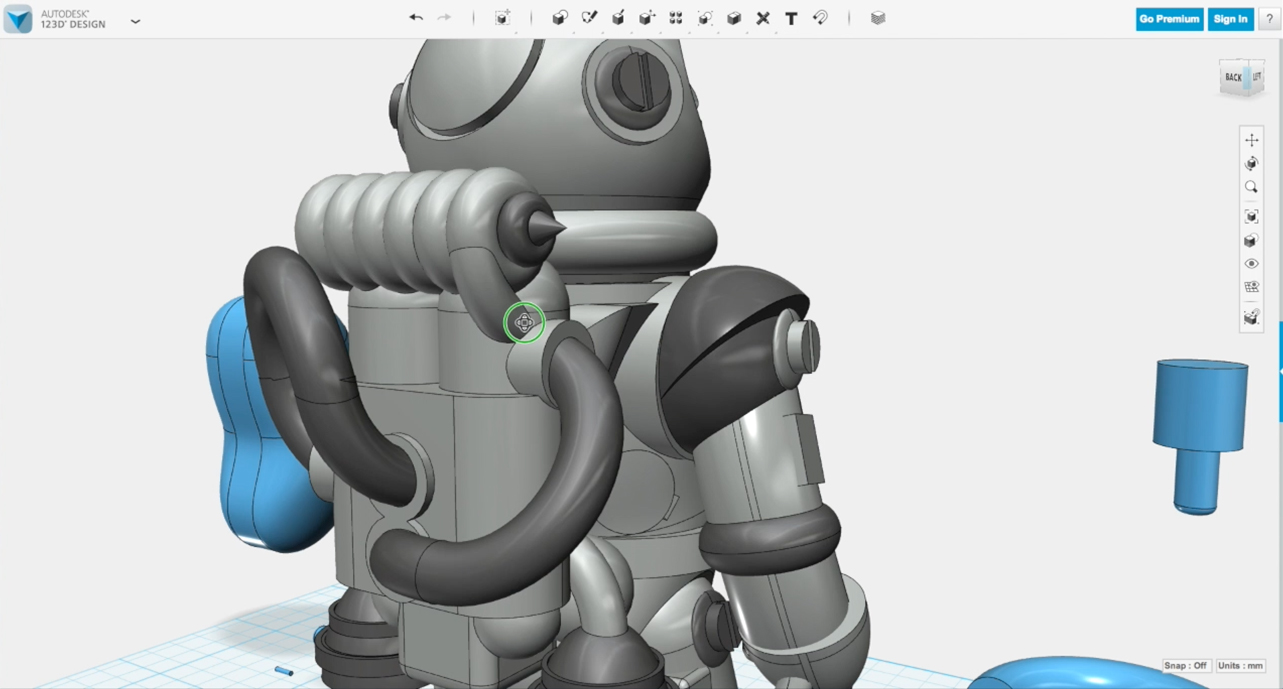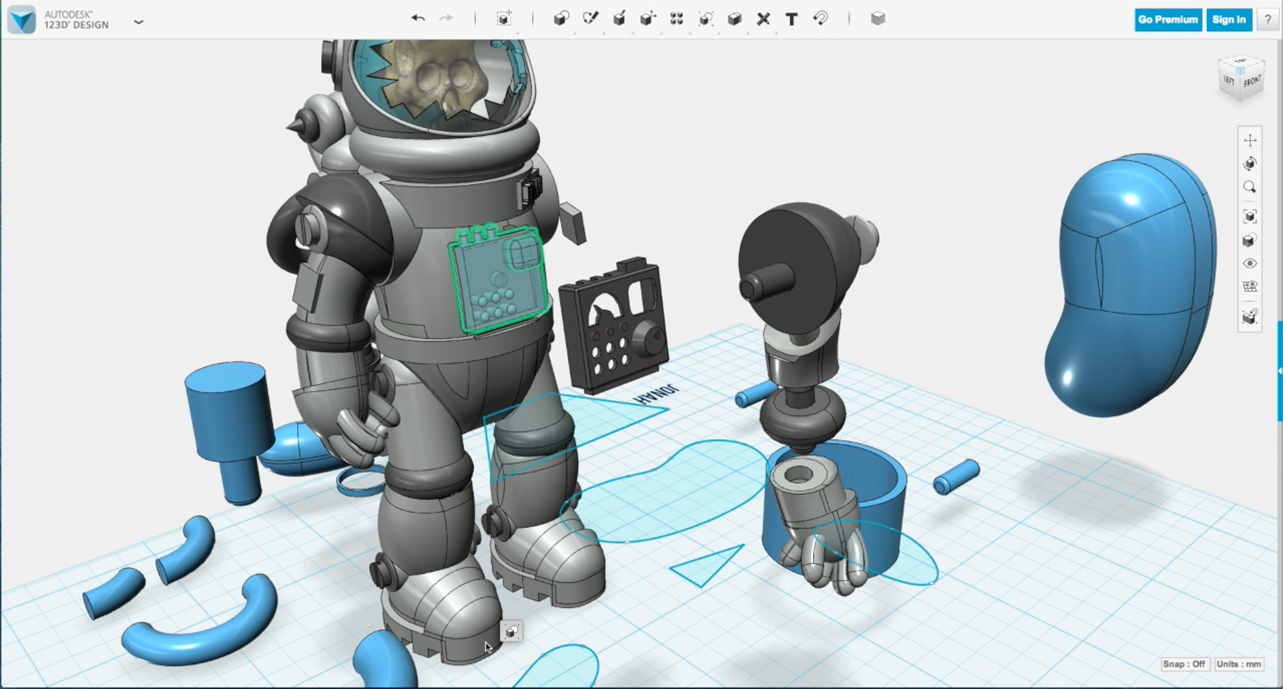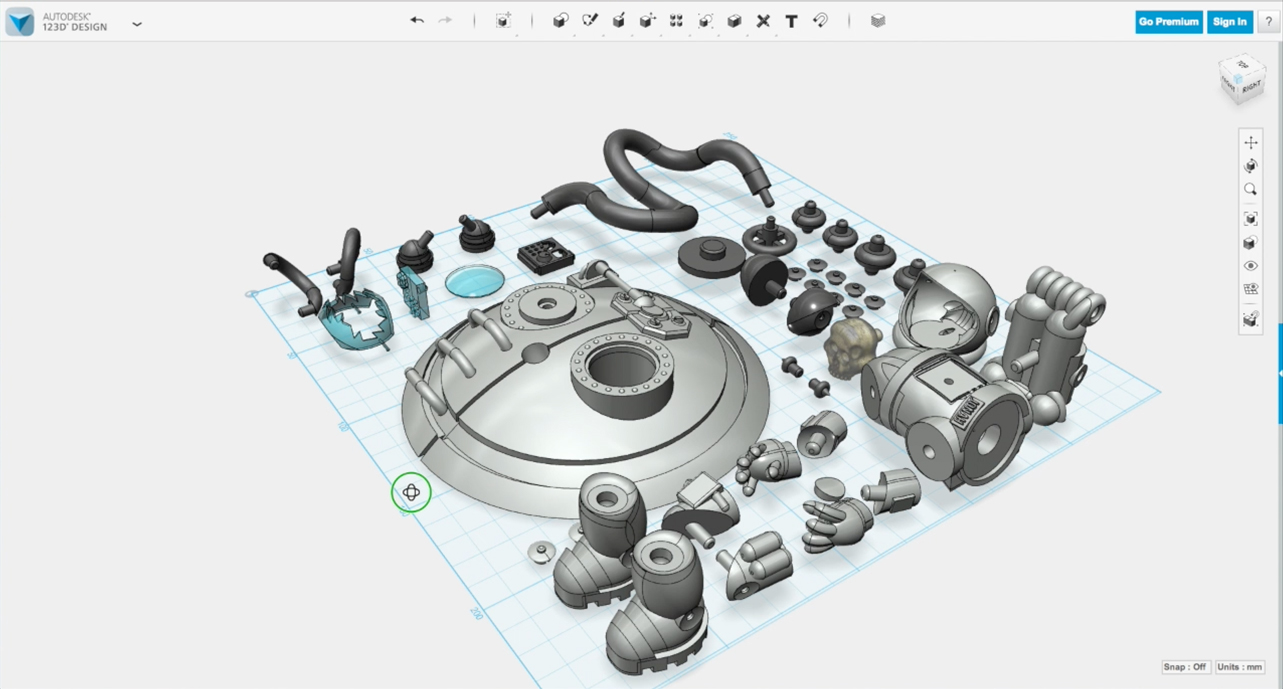 Prototype
After I'd finished the first draft of the whole thing, I needed to print it to see what worked and what didn't. I didn't have a 3D printer myself so I went onto 3dhubs.com, which is a great resource to find local people who have printers that you can hire, where you can send them your 3D files and receive the printed parts in the mail – usually at a great price. I did this and created a solid white test print of just the astronaut – I made it too large and its only in one colour – but it was an invaluable test to learn what worked, and what didn't.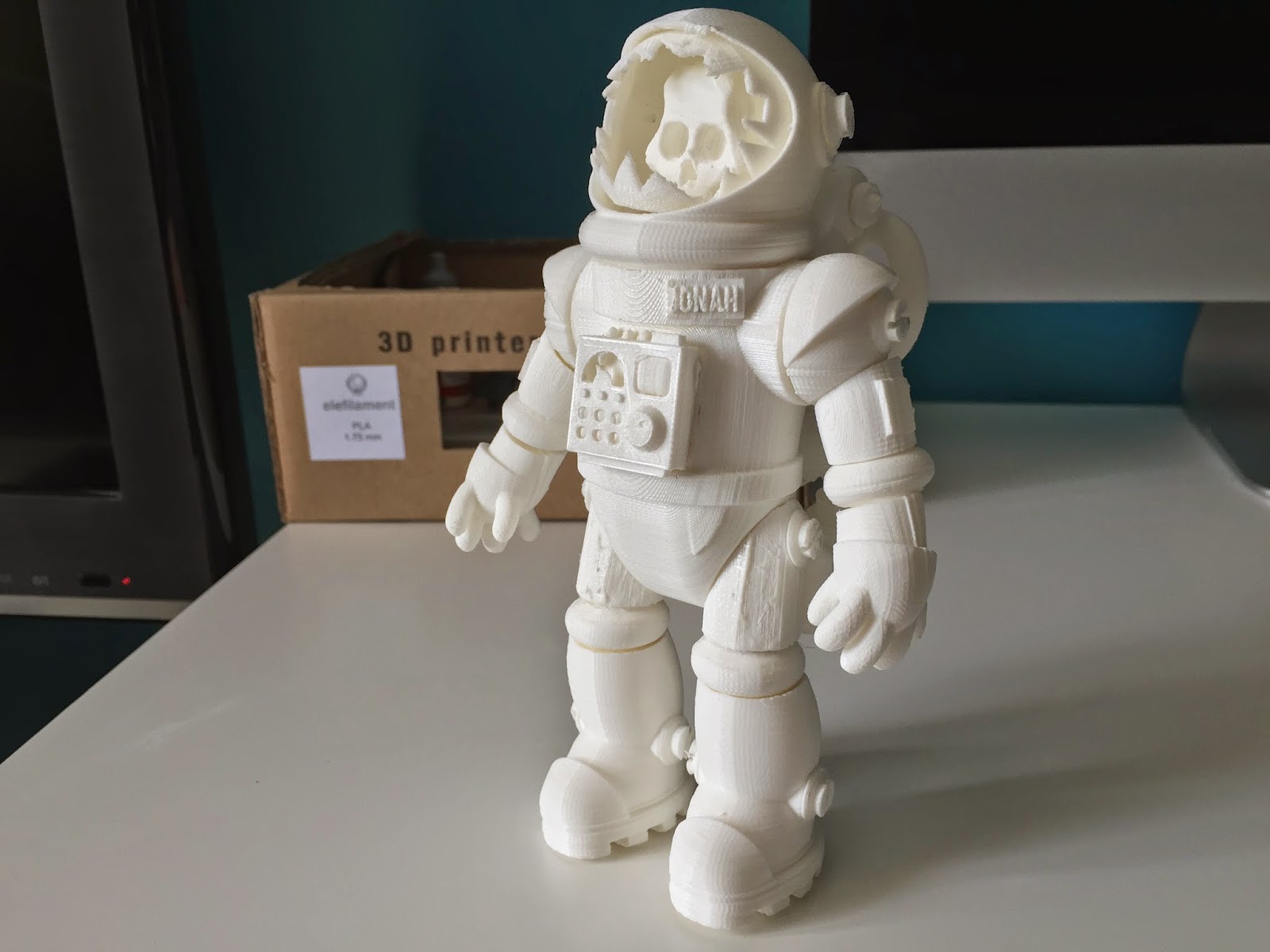 Printing
It turns out I did a ton of things wrong – the joints didn't fit together, parts were the wrong design to move. It was clear that this was going to be a trial and error exercise.
So I figured I should really get my own printer. I went low budget, but found a great machine from a local UK company that imports the Createbot Mini 3D Printer from China.
It's a great machine for less money but the trade-off is that it's not as straightforward to use as the higher-end machines like the Makerbot Replicator 2. But it did force me to learn the process step-by-step and I think that helped me to understand more about what's going on when you use one of these machines.
The machine allowed me to print off my design one part at a time, checking and adjusting as I went. I learned how to allow for the material when creating joints and how to orientate the 3D object in the best way to reduce support material and reduce the risk of misprints.
Even though my design wasn't that large it was a slow job. One part (the largest) took a whopping 12 hours to print! At high res, it's a slower process but you get sharper, cleaner results.
And after all that effort, the months of adjusting and learning the print was finished. There are some photos below. I even managed to work in small holes in the model to allow for the possibility of model lighting for effect – you can see one of the photos with that in place.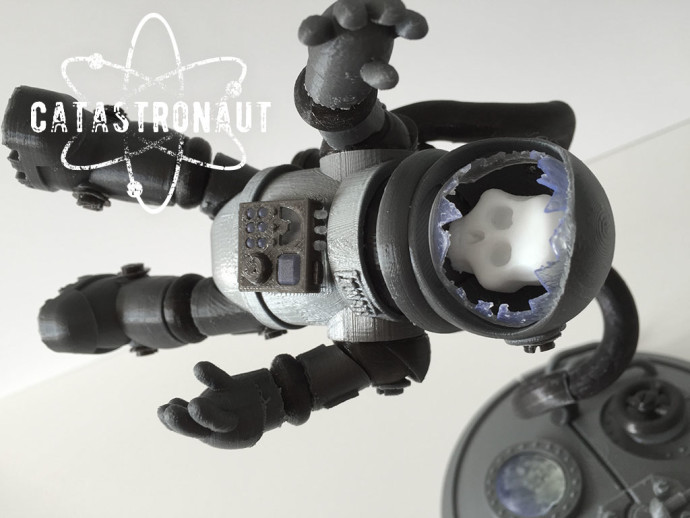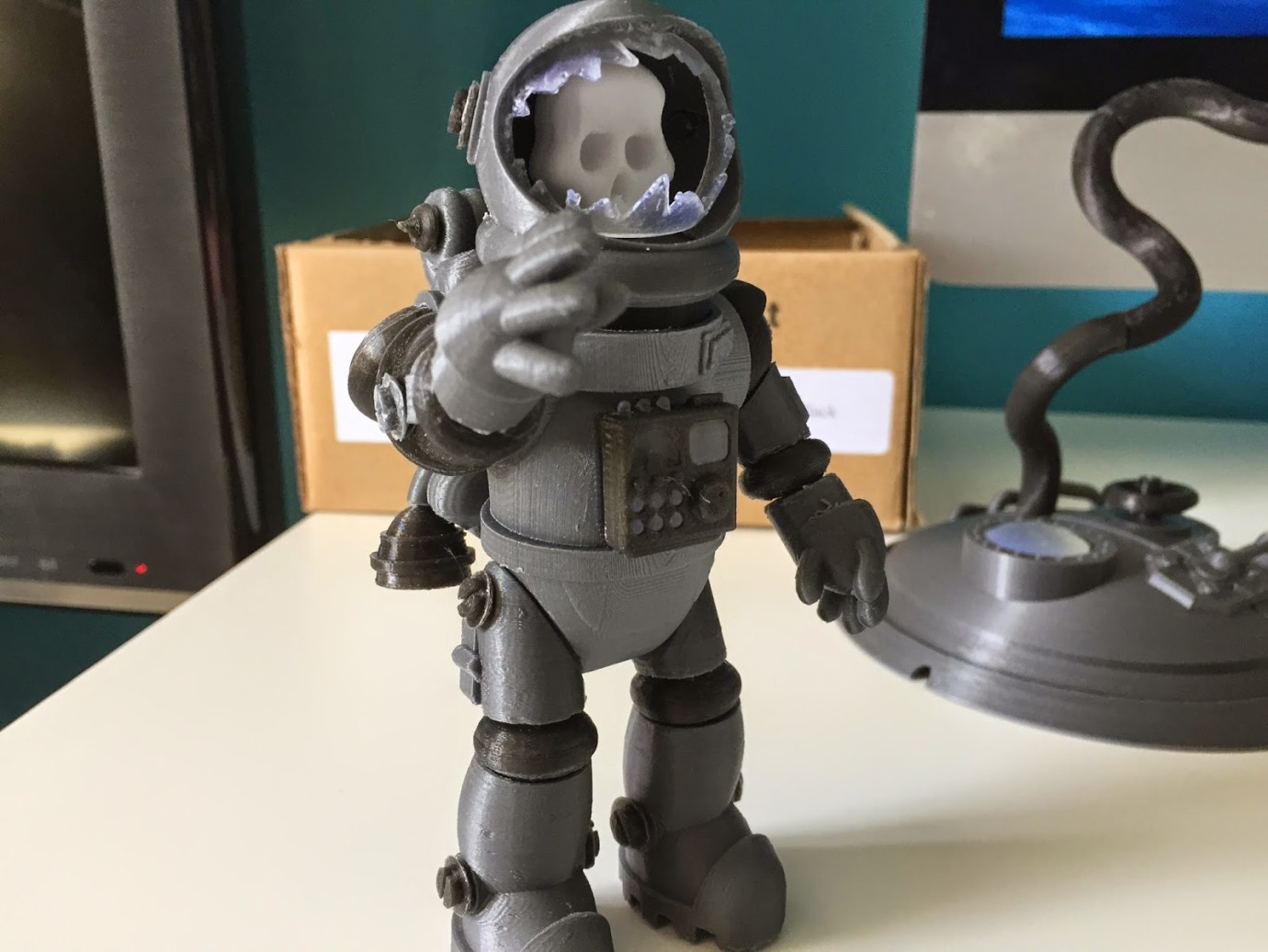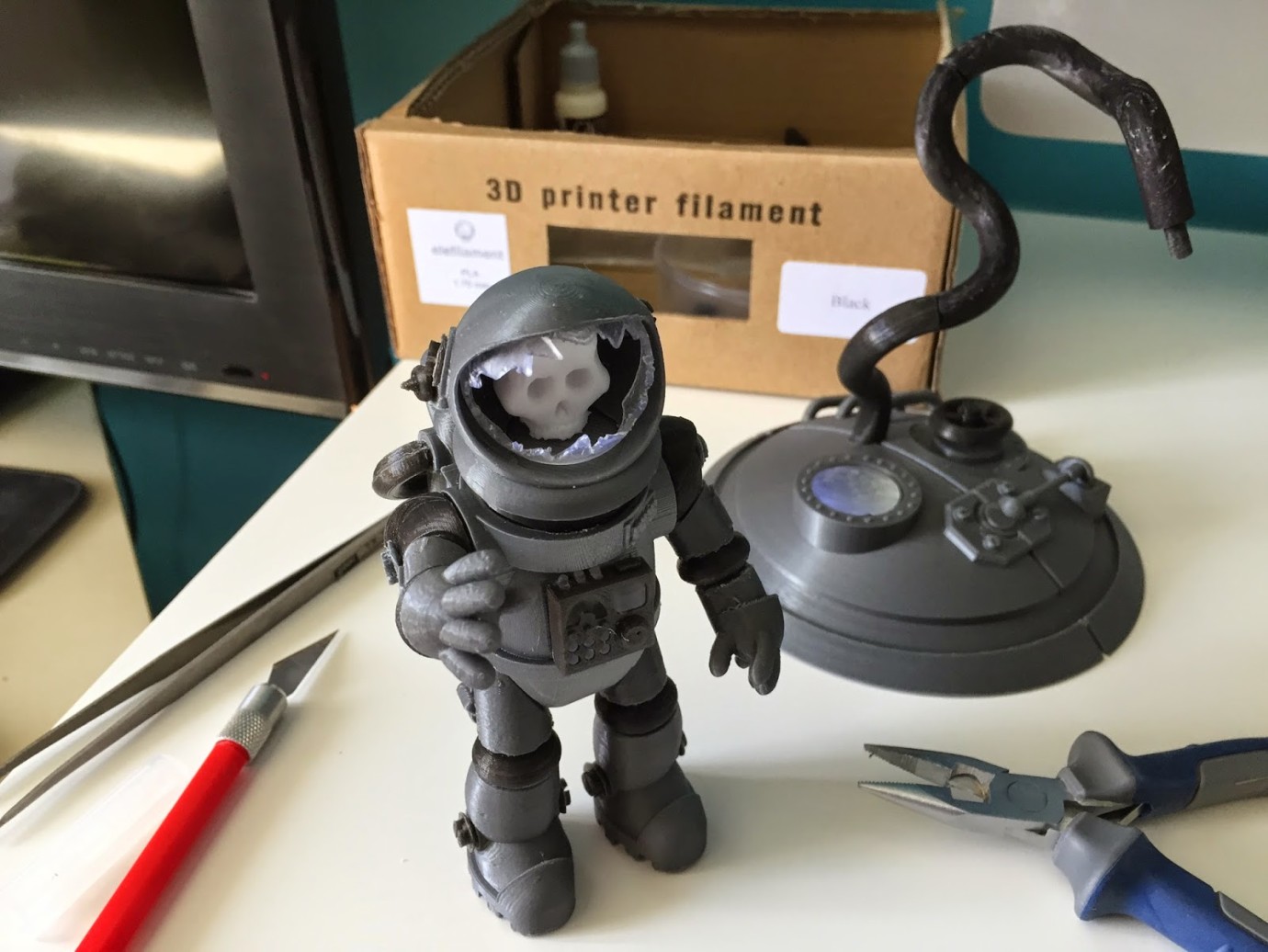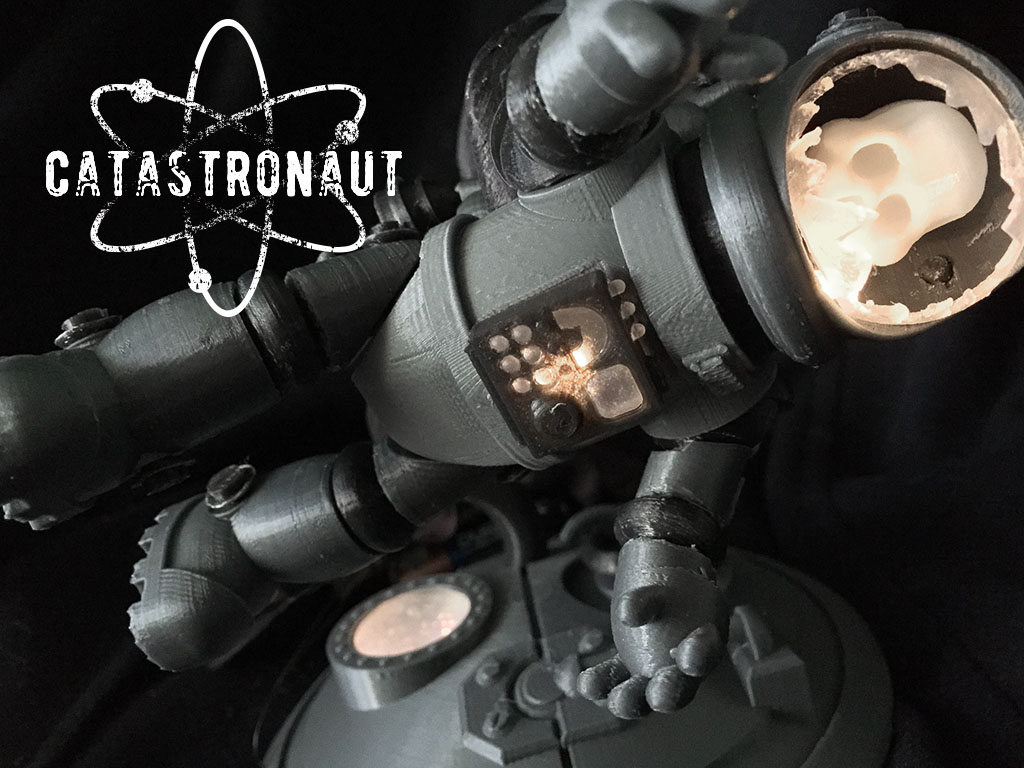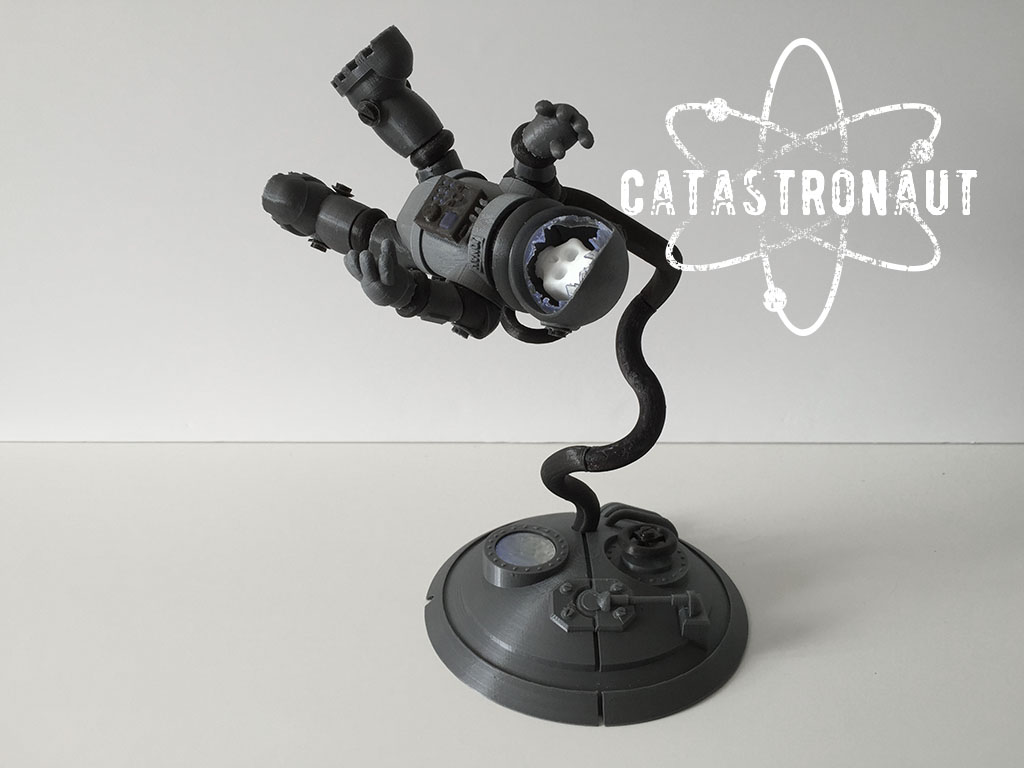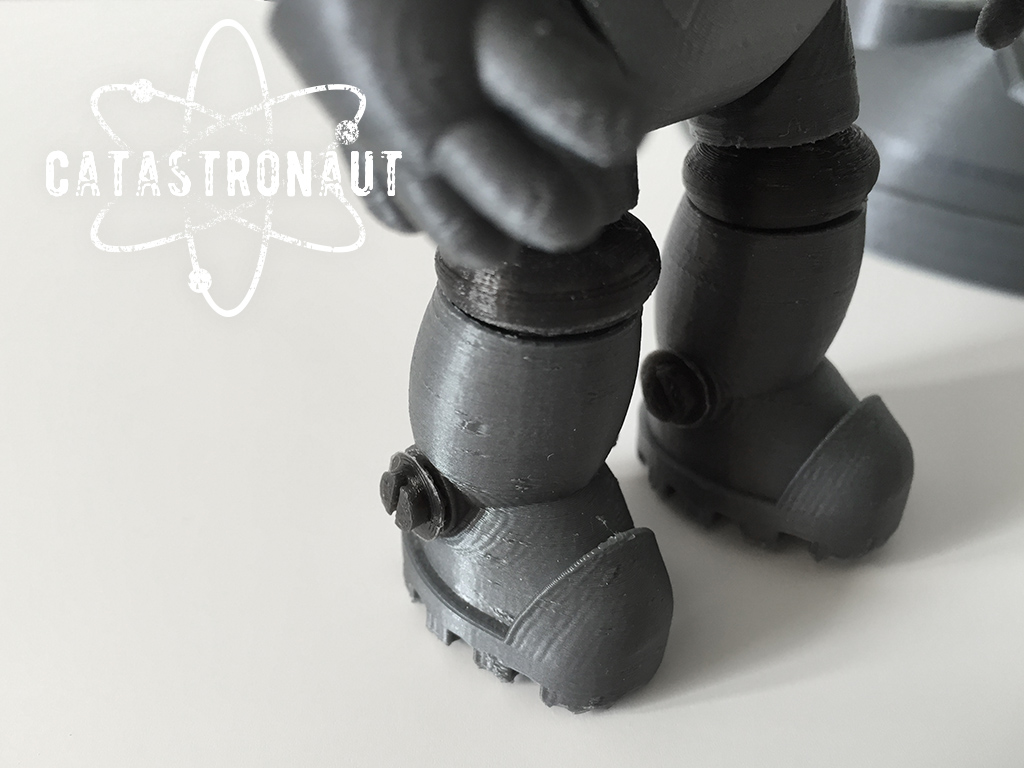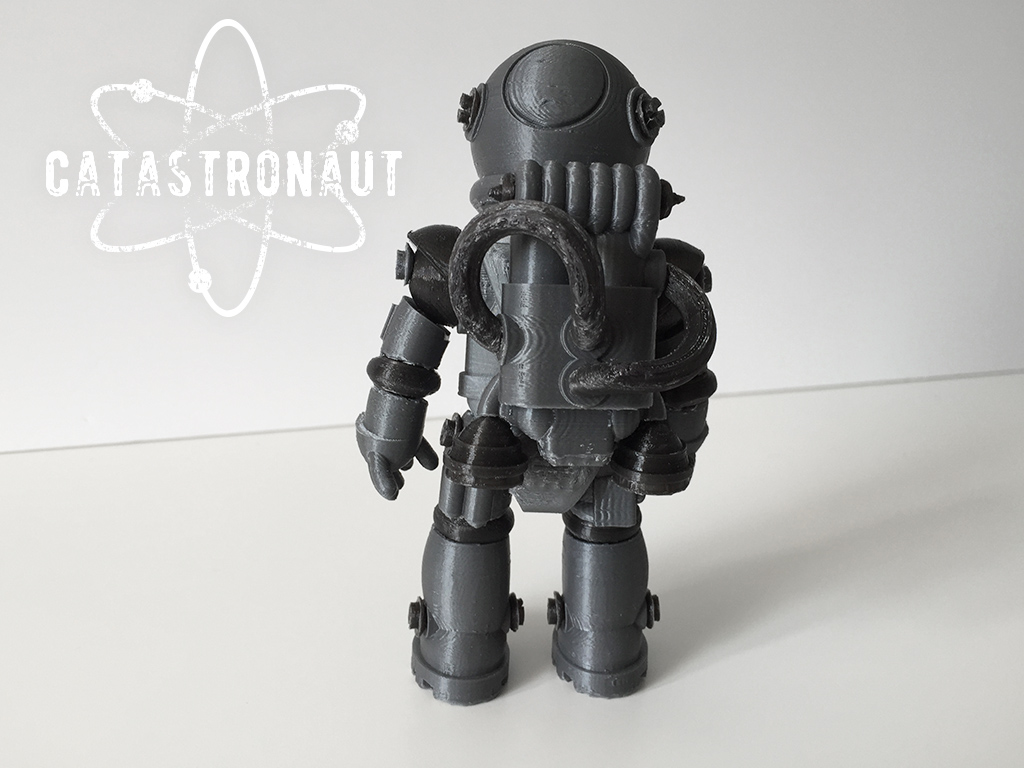 Thingiverse
So what would I do with this printable model now? Luckily there are several sites that allow people to share their models – the original and most popular being the Makerbot Thingiverse. So I took some photos and uploaded all of the files.
I began to get some downloads and likes straight away, so I felt it had gone well. And then, overnight, the Thingiverse Admin spotted it on their radar, and made it a feature model on the homepage!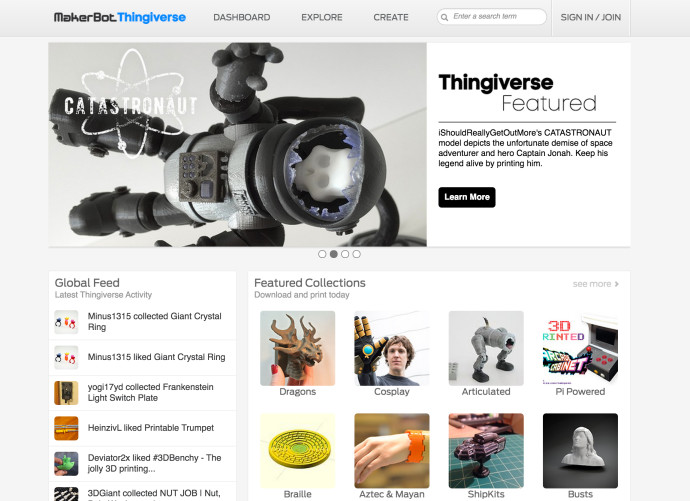 Robots building astronauts?
Since then (four days later) its had over 7k of views and been downloaded 800 times – I've even already had people sending me photos of their own finished prints of my model files (It's really weird to see someone else printing it!)
So hopefully more people will do the same and share the results. Some have told me that they plan to use brighter colours, others may create an un-shattered visor and human head for the model – which I'd love to see!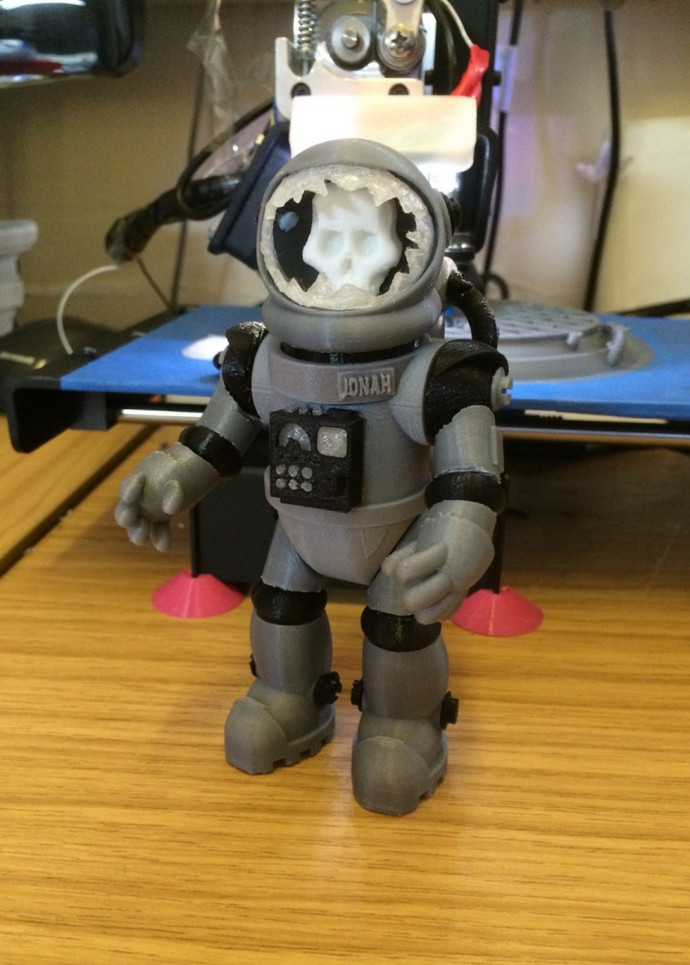 The next steps?
I'd like to continue and create more models to share on Thingiverse – I already have an idea for the next one. And as usual, it's too complicated and I have no idea how I'm going to do it.
But as the title of my blog points out: