Published on January 14, 2016
In the final installment of our finance-focused Frictionless Series, we look at the threat to retail banks and identify who the real challengers are, whilst offering some design solutions to deal with this disruption.
Download our FinTech white paper and infographic here.
The face of the finance industry is changing; the traditional bank's monopoly is being challenged.
The threat to retail banks began with FinTech startups, like Transferwise and Zopa, but without the full ability to scale or deal with the highly-regulated finance industry, they can only disrupt so much. Now, banks are turning to these startups for their expertise and innovation, as is evident with Santander's InnoVentures and Bank of America's involvement with the FinTech Innovation Lab programs.
The threat to traditional banks still exists, but not – like some thought – from internet banks like Ally and Simple. Instead, the challenge is coming from the likes of Paypal, Amazon and Google, big tech companies who have the resource (and experience) to deal with strict regulation and a wealth of interesting customer data to work with. Brand interest is high, with 57% of US consumers stating their interest in financial offerings from Paypal, closely followed by 56% for Amazon.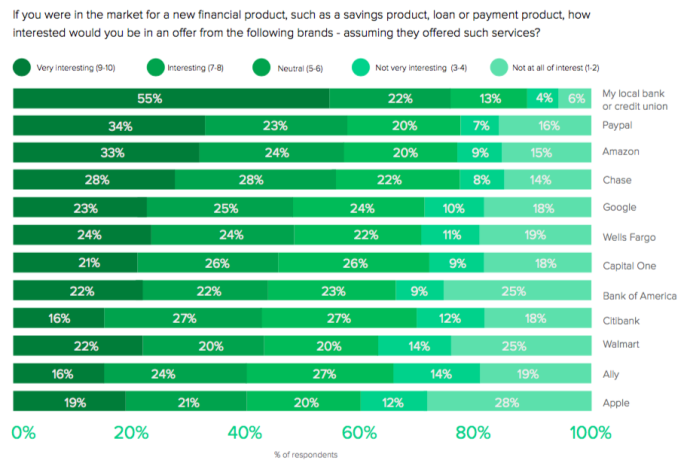 Retail banks are struggling to retain their customers in the face of this disruption. The FT predicts that European banks could lose out on €22bn revenues to big tech companies, that are rivalling traditional banks with their seamless digital services. Customers are demanding more from their banking experience as their digital-savvy increases, but banks are failing to meet these expectations. In order to keep up with the pace of digital disruption and better meet customer needs, banks need to urgently address their design weaknesses, or risk being overtaken by the tech giants.
In the US, customers are demanding improvements. 53% want to see improvements in the speed of their transactions. 50% want it to be easier to log-in. 73% expect a greater focus on security. But all of these pose a design challenge.
There is a widely-felt sense of anxiety surrounding online banking after various data breaches in both the UK and the US. This means customers actually appreciate the rigmarole of being asked security questions, preferring it to faster, easier security solutions (e.g. voice recognition), as they perceive it to be safer and more secure. This poses a surprising problem in designing for customer need – if things are too slick and seamless, the customer worries their security isn't being taken seriously.
The solution is to design in some extra "time". Even if the authentication only takes a split second to execute, by employing some UX theatre during security checks and building in intentional delays, customers will feel more at ease inputting their personal data in the bank's digital products. A good example of this is having verification represented by a loading spinner.
Despite the fact that 57% of US consumers, and 64% of UK consumers, saying they would consider going digital-only for all their banking needs, we found that customers still value the branch experience. In fact, 77% of US consumers ranked their local bank or credit union as their first choice for financial offerings. From that, it's clear that retail banks need to design solutions to meet customer's digital demands, whilst retaining their physical presence. This will provide retail banks with the edge they need to fend off their digital-only rivals.
Although tech companies may be able to execute some of the digital elements better, they are unable to provide the face-to-face branch experience which some customers are unwilling to part with. This should not be ignored in designing solutions to stay ahead. Banks should use their edge to their advantage and design digital solutions that work in tandem with their physical presence. What they will ultimately create is a seamless, platform-agnostic experience that will stand up to their tech challengers, by offering things that digital-only does not provide.
Banks still face the challenge of improving their design practices within an environment saddled with more regulation and slower processes than most other industries. To retain an edge, banks must innovate whilst playing on the strengths that set them apart from the tech companies that are encroaching into their space. By using their physical presence and combining it with an improved digital service, banks can offer what the tech companies cannot: an all-encompassing customer experience that blends the physical and the digital, spans a range of needs and reaches a broad audience.
Download our FinTech white paper and infographic here.