Published on June 14, 2012
We have over the past few years developed a model that helps guide brands understand the paths that their target market take.
We were delighted to see Jeremiah Owyang's call to share ideas around the theme of the "Dynamic Customer Journey" over on Altimeter's blog. Thinking about how the customer decision journey has changed in the age of the social web is something that we have spent a lot of time researching over the past couple of years, and we wanted to take this opportunity to share our view. The rapid proliferation of social media use we are seeing now is just the next phase in the ongoing fragmentation of the media landscape – a consequence of the marginal cost of information dissemination dropping to virtually zero. This is permitting any individual who wants to be a part of a conversation to share their experiences, whether in a small group of people with shared interests (the so-called "interest graph") or on a bigger stage.
The many permutations of the customer journey
As Jeremiah posits, the challenge for brands is trying to figure out how to reach its target market across 1,575 permutations of channels, platforms, journey phases, media and influencer types. From research we have conducted, we would contend that that the actual number of permutations is even more mindboggling. In research we conducted last year, we asked consumers in the US and UK what influenced them in the purchase journey across 12 types of products and services. What we found was that the path taken and the factors of influence differed greatly at each stage, from pre-purchase to post-purchase sharing. For example, Facebook is a popular place to trade recommendations on baby products, while online consumer reviews are important to people researching electronics products. Broadly speaking, we found that the level of involvement inherent in the product category was a major factor, but involvement is a continuum, further complicating the picture. And the permutations in terms of what matters most at each stage in the journey is compounded by the motivating factors associated with different user segments In one study, we found that for a health-focused CPG brand there were a number of online communities of shared interests (food, nutrition, parenting) where consumers were initially exposed to the brand. But existing consumers of the brands' products were engaging by posting commentary to product review sites about the product's attributes. If it were able to bridge the different channels, it would better reap the benefits of its customers' advocacy. So what are marketing teams supposed to do? We believe they have to listen and learn what their customers' wants and needs are throughout the journey – in sharing their experiences, they are giving brands a massive opportunity to better get to know their audiences' needs. It's still the same hallmark of good marketing strategy – getting under the skin of the customer has always been a central tenet of good marketing – but the mechanics and complexity have changed.
Managing fragmenting channels
We have over the past few years developed a model that helps guide brands understand the paths that their target market take. Consumers are increasingly present across different channels, and are demanding to have their specific needs met. Micro segmentation allows marketers to have a highly tailored and targeted strategy in place, because they can find where people gather around shared interests, no matter how niche, and engage directly with them. As maddening as that fragmentation might seem to a marketer trying to cater to this, we find that patterns do become more predictable with closer scrutiny. For example, in research we did for a car-insurance brand, we found that there were wide varieties of channels upon which consumers ask questions and conduct research before choosing a provider. But the nature of path and channels could be predicted by the geographic location of the buyer, the make of car, as well as the life-stage of the person.
Our model for the new customer decision journey
The customer decision journey model we use has sharing at the heart of it. Whether it is a brand creating content that engages an audience, or it is a customer sharing their experiences with (or evangelizing the benefits of) a product, it makes for a very different dynamic than the traditional sales funnel. The model is illustrated in the diagram here: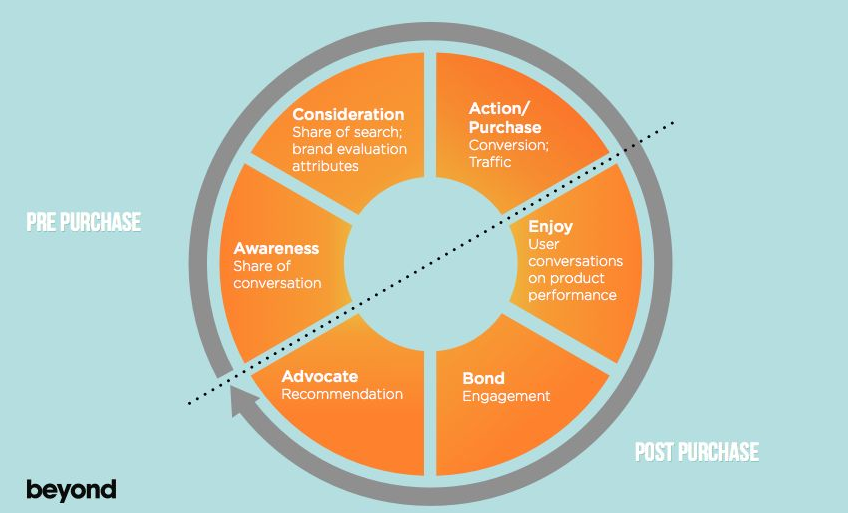 The interplay that happens between customers, influencers, and brands – across channels, platforms and media types – all shape the journey, creating a virtuous cycle for those brands that master it (and deliver on the promise of their brand). Conversely, brands that ignore the customer journey risk undoing all that they have invested in creating awareness through expensive advertising campaigns as consumers move to the consideration phase and discover others brands recommended by satisfied users and influencers. A simple example of this is a buyer of a DSLR camera – when she moves into the consideration phase of the journey, in the old offline world she would likely pick up a camera magazine or visit a store to ask a sales person for a recommendation. In the new online journey, she is as likely to start with a Google search and base a purchase decision on the views shared by other camera users on a photo forum; in Amazon product reviews; or through advice from friends solicited through Facebook. We have broken our model out in several stages. At the first stage, we seek to understand how a given brand has an impact on each digital touch point, and at each stage of the journey. As you can see from the diagram below, there are different objectives for each point. And by listening to the conversations at each stage of the journey, we can discover what a brand can improve in its digital marketing mix.

The next stage is to understand how a brand's positioning aligns with audience perceptions – do the brand values translate and does it ensure that there is a connection made at each stage? And are the key selling propositions the brand makes to the target market resonating?

Then lastly, what levers does the brand need to move to make a better impact at each stage?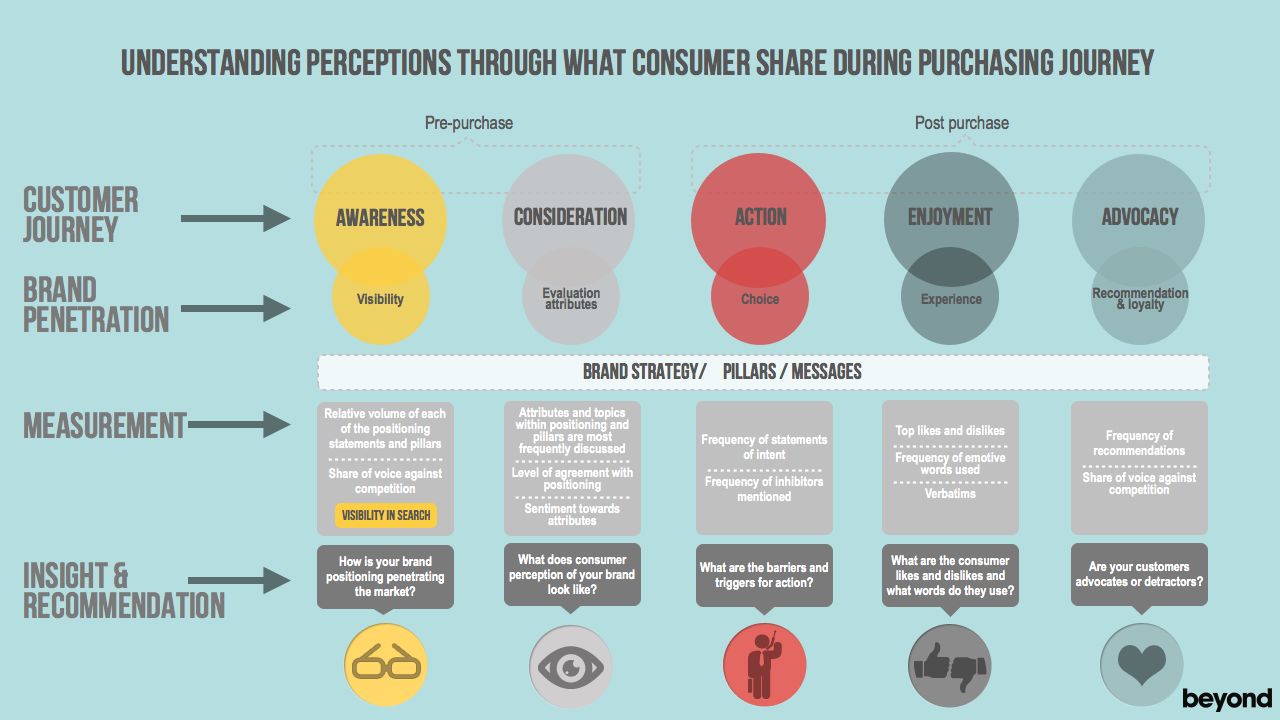 For example, by breaking down conversations and interactions into the customer journey stages, we have found that there can be very large differences between what potential customers view as attractive about a brand compared to existing customers – an indication of a disconnect between the brand promise and the brand reality that ought to be addressed sooner than later. In one case we found that for a provider of communications services, potential customers viewed the value of the service very positively and it was the largest driver of conversations at the pre-purchase stage. However, for existing customers, value was a much smaller piece of the conversation and perceptions of quality of the service were much more negative and by far the biggest part of the conversation. This indicated two major risks: one is that the company was likely to have a customer retention problem. The other was that perceptions of existing customers risked influencing those of potential customers, acting as an inhibitor. Through ongoing monitoring of these metrics, the progress towards correcting those issues can be measured. So in conclusion, as complex and overwhelming as the new customer decision journey might seem at first blush, clarity comes through careful mapping of where your customer can be found and what is on their mind each step of the way. Generic best practices and case studies from other markets can be as misleading as they might be helpful – because they are not about you or your customer. After all, successful brands shape their own market and set customer expectations– and that takes hard work from the ground up, with an unswerving focus on your customer 's journey. And if you don't, your competitor certainly will.
Nils Mork Ulnes on Google+